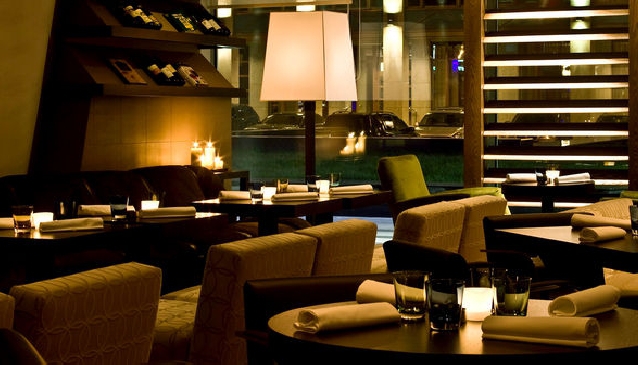 When East Eats West
Food & Drink
Ostensibly, Luce's main domain is wine, or, more specifically, Italian wine
There's a reason the first Emperor of Russia is known as Peter the Great. He was the one who opened his country's eyes to the West, to progression and reform, transforming it from a nation marooned in medieval mire to a modern superpower at the cutting edge of Europe. He revolutionised Russia's approach to practically every area of research and life, from culture through to science, broadening its horizons in all directions and setting it on an enlightened path which leads all the way to the present day. If anything, 'great' was an understatement.
It's enough to make one wonder what he'd think if he saw Russia today. No doubt he'd spend a while getting used to many of the things we take for granted; electricity, computers, pedestrian crossings. Only then might he start taking in his surroundings, the angular buildings composed of glass and metal, the immense asphalt highways choked with a constant river of cars, the ginormous billboards advertising products designed to enrich one's life.
Indeed, Russia has changed a lot since Peter was around. For a start, Moscow is now the capital, not St. Petersburg. The focus of life has moved from agriculture to consumer culture, and, like most of the modern world, from survival to the accumulation of wealth. Companies like MacDonald's and Coca Cola now swathe the city, serviced by fashionably-clad people who arrive in sleek black Audis and executive saloons. If Peter dreamed of a modern Russia that takes influence from the rest of Europe, this is it.
Few places represent this progressive vision better than Luce restaurant. Ostensibly, Luce's main domain is wine, or, more specifically, Italian wine. Its walls are covered in bottles waiting to be uncorked, brooding in the glow of tastefully-placed shafts of light, willing to be devoured by the men and women of Russia's renaissance. In fact, the very name of the restaurant was influenced by Frescobaldi, one of the world's oldest producers of wine.
They're there to enhance an eclectic menu that is heavily laden with pizza and pasta, fish and focaccia, catering for taste buds that demand ever-richer and finer foods, while paying scarce regard to cost. But the modestly-worded menu itself suggests little of the spellbinding quality that customers can expect once their meal arrives. Each dish is sophisticated and refined, packed with flavour and presented with astonishing attention to detail.
This alone would be enough to place Luce in Moscow's restaurant elite, yet it represents only half of what makes this place so special, for alongside the undoubtedly delectable foreign foods can be found equally delectable Russian dishes, from beef stroganoff through to borsht. It acknowledges that Russia's is a cuisine of great depth and variety, and one that is more than able to hold its own against the titans of global nourishment.
But it also represents something deeper than this. It shows that Russia has embraced the West as Peter the Great desired, but not to the detriment of its own culture, and while fingerprints from around the world can be found throughout Moscow, they add to the city's culture constructively rather than destructively.
In turn, Russian culture is beginning to spread out of Peter's window to the West, permeating the very places that have hitherto been setting global trends, from the vodka that is now available in every European bar, to the Cossack hats that can be seen bobbing through city streets every winter, to the stroganoff that has become a staple dish of many English households, to the billionaire oligarchs who have been ploughing their pocket money into the finest football league in the world.
Could Peter the Great ever have dreamt of this?