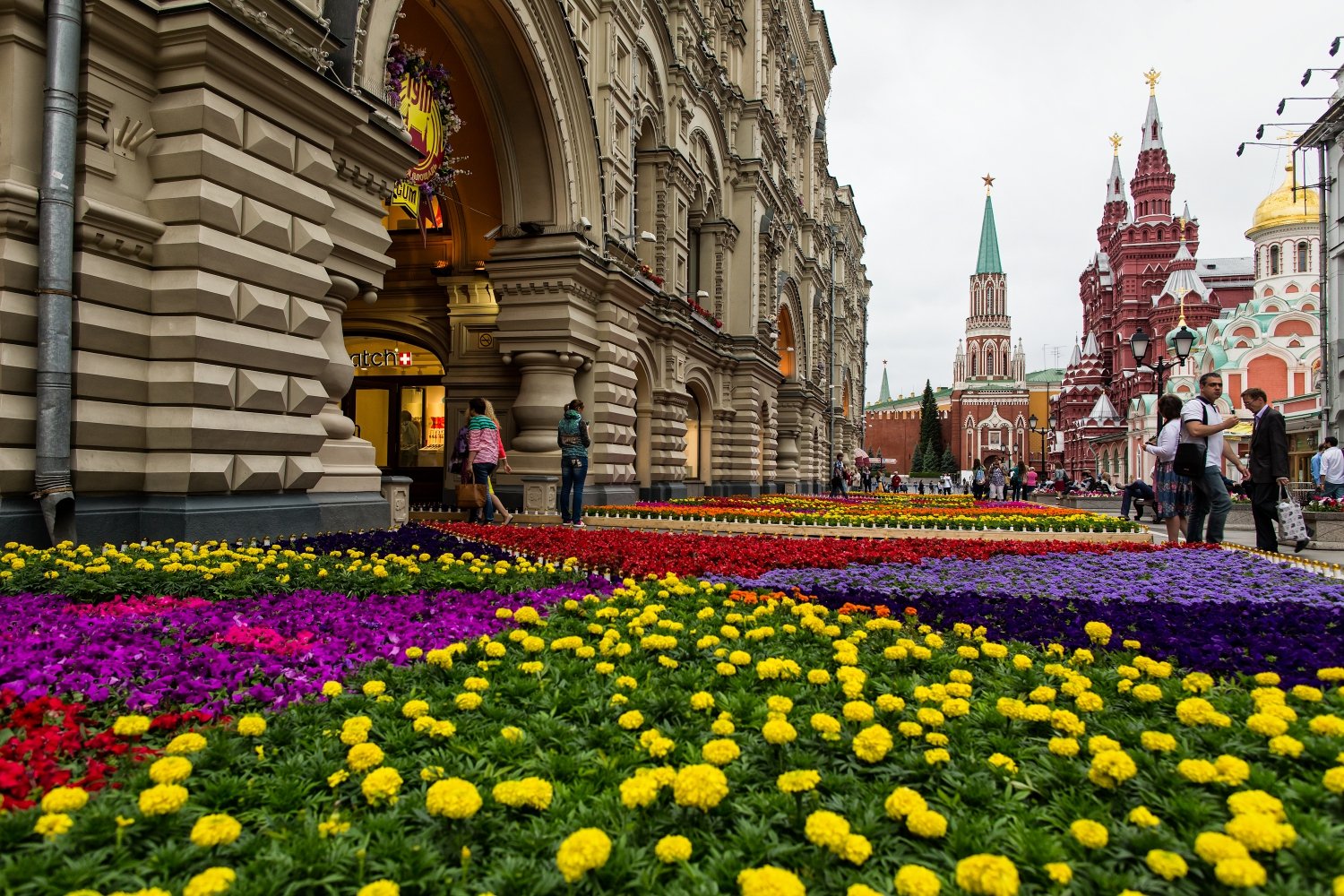 Summer events in Moscow
Moscow
Summer is arguably the best time to visit Moscow: apart from spectacular rooftop cafes, romantic verandas and multiple options for outdoor fun, Russia's capital offers a variety of events to every taste. From theatre festivals to music gigs to firework competition - here's a list of Moscow's summer fests you definitely should visit.
XIII Chekhov International Theatre Festival
May 24 - July 20
From May 24 until July 20 Moscow will turn into a theater-lover's paradise: the Chekhov International Theatre Festival as always offers a striking variety of both local and foreign performances.The grandiose event, which celebrates its 25th anniversary this year, comprises a series of international shows along with Moscow and Regional programmes. The international series includes 22 stage productions from the UK, The USA, Germany, China, France, South Korea, Argentina, and seven other countries. Theatre-goers will get the chance to see plays by such masters of their genres as Declan Donnellan, Ivo van Hove, Tina Kronis, Robert Lepage, and many others.
Park Live
July 5
First held on the premises of VDNKh in 2013, Park Live festival has grown to be one of Russia's most expected music events. The festival is known for scoring such fantastic performers as the Muse, The Killers, Paramore, the Red Hot Chili Peppers, Lana Del Rey and Limp Bizkit among others. This year Park Live promises an exciting new venue of the CSK Arena, and cites some of the world's hottest music acts like System of a Down, Three Days Grace, Twin Atlantic and others .
Afisha Picnic
July 29
On July 29, 2017 the Kolomenskoye Museum-Reserve in Moscow will cease being a quiet green space, and instead will turn into one of Russia's hippest places instead. One of Moscow's oldest outdoor festivals seems to have it all: fantastic food, indie designer market, art installations, lectures, board games and finally - incredible music. The 2017 Afisha Picnic features several stages and performers like Kasabian, Foals, and a recent music phenomenon of the New East -"Griby"
Nashestvie
July 7- July 9
"The greatest adventure of the summer" aka "Russian Woodstock", Nashestvie (translating as "invasion") is an open-air event with a focus on Russian rock music. Launched by one of Russia's most popular rock stations Nashe Radio, the festival is a perfect place to see both established and emerging musicians from Russia and the former USSR. This year Nashestvie features such legends of Russian rock music like Kalinov Most, Kipelov, Splean, Kukryniksy, Pilot and Alisa.
Usadba Jazz
July 1
The most prominent jazz festival in Russia, "Usadba Jazz" is an amazing blend of atmospheric architectural environment and high quality jazz. As usual the 18th-century Arkhangelskoye Estate will play host to the celebrated festival featuring 4 different stages (one of them for children) and 18 jazz bands from Russia, the USA, Israel, the UK, Georgia and Norway. The 14th festival has gathered so many stellar headliners, you'll have a hard time choosing between the Grammy award winner Bootsy Collins, Israeli actress and singer Ester Rada, Norwegian trumpet player Nils Petter Molvær and the festival's muse Nino Katamadze - Georgian jazz singer.
Vdohnovenie Art Festival
July 21 - August 1
For the third time in a row, VDNKh hosts Vdohnovenie (translating as 'inspiration') - an annual festival, exploring the edges of art and inspiration through music, theatre, multimedia and improvisation. The theme of this year's event is "the nature of inspiration", which focuses on searching for new ideas in the living world. Every day after dusk Ostankino park will miraculously turn into a multimedia-enhanced "magical forest", full of spirits, animals and mythological creatures. Curated by Julien Pavillard, the Vdohnovenie festival will close on August 1 with an astounding light show.

International Fireworks Festival
August 19 - August 20
Beautifully situated on the banks of Moskva river, the Brateyevo Cascade Park is probably the best place in the city to enjoy fireworks created by talented pyrotechnicians from Austria, Brazil, China, Japan and Russia. Taking place under the tagline "Moscow on 7 hills", the festival is going to have just about everything for family fun: historical food court, workshops and crafts classes, performances and music acts, sports, quests and games. Competitions of firework professionals will start at 9pm and visitors will see 4 fireworks shows every night, which will require around 27 tons of pyrotechnics.
Sun Drums Fest
July 14- July 16
Nature, rhythm, fun and excitement are all the things that make the Sun Drums Fest worth taking a ride to Moscow's suburbs. Three days of ethnic music, set against a stunning backdrop of pristine nature are a great choice for a family weekend getaway.
Moscow Flower Show
June 29 - July 9
Whether you are a floral industry professional or just hungry for beauty, Moscow Flower Show is worth paying a visit. Landscape designers from Russia, the UK, France, Italy and other countries will make MUZEON park the most beautiful place in the whole of Russia, show the finest pieces of their work and share some professional secrets.
10)
International Military-Technical Forum "Army 2017"
August 19 - August 20
In August 2017 the Patriot expo center will host Russia's most prominent military-technical forum "Army", where over 1000 of exhibitors from all over the world will demonstrate high-tech military equipment. The exposition will be set up across 40,000 square meters of exhibition halls, more than 100,000 square meters of outdoor venues and over 200,000 square meters at the Kubinka airfield.