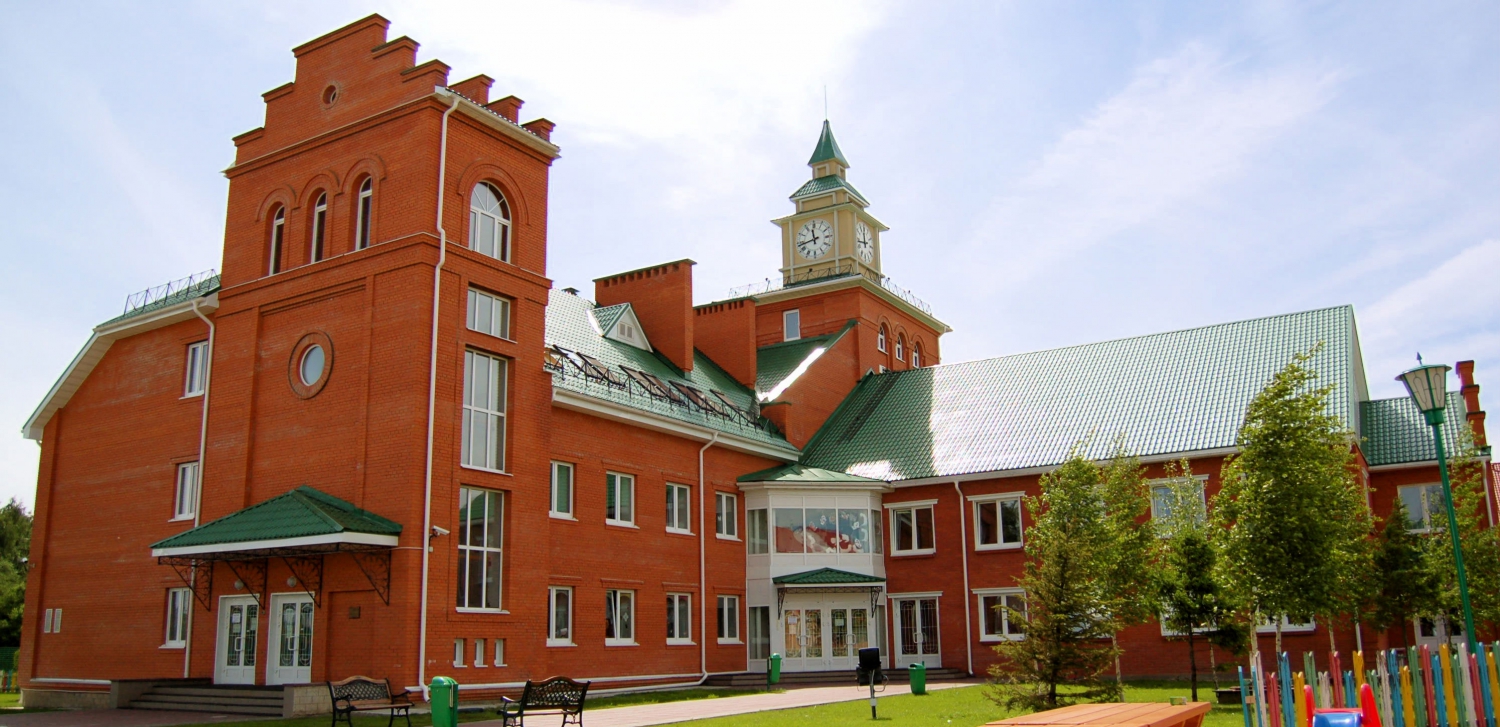 On the right path
Moscow
"We are the world, we are the children, we are the ones who make a brighter day."
Suzanna Sargsyan


"The loftier the building, the deeper must the foundation be laid."
Thomas a Kempis
Starting the construction of a desirable residence, the solid foundation is the first thing we should think about; planting the flowers, primarily, we should provide them with a fertile soil. Obviously, the future of a successful person starts from a good education in the childhood. Visiting the Rosinka Campus of the International School of Moscow, I perceived that better than ever. The campus is a part of Rosinka International Residential Compound, which also includes Conference Hall, Sport Complex with swimming pool, restaurant, beauty salon and European Medical Center. When I just crossed the auto barrier and drove in the territory of Rosinka, a question passed through my mind: "How far have I got from Moscow?" No shade of noisy dusty metropolis – a well-conditioned picturesque place with cosy residences surrounded by the National Park and the lake with its own sand beach.
Many children who study in the Rosinka Campus live in this very village, which is perfectly convenient for their parents – they can look through the windows of their houses and see their children playing on the court. Besides the sport courts, the campus has a splendid colorful playground for little kids of 2-4 years old. Our route led further… to the forest with a real camp, where certified forest teachers train the children to develop skills in woodland environment. Learning is not limited to the classroom but can also take place on the lake in kayaks or preparing for a performance. Very soon the school will finish the climbing room – an ideal tool for achieving goals that will help them in education as well. ISM places high value on trappings and accessories, which, by all means, create atmosphere and help the kids enjoy their study process. Here are some of them: brand uniform for the ISM students, notebooks of different colors for each subject, tablets with special applications for memory training, interactive classes with projectors, etc. The school takes care of kids' health - only fresh food and various dishes are served in the dining-room with due regard to idiosyncrasy of every student.
The 1
st
year of education starts with core subjects such as English and Maths. And the first thing the pupils are asked to do is writing. Here, in ISM, the writing means a creative process, during which the children try to express their own thoughts. The best works that are displayed on the "Wall of fame" board serve as an example for other kids, who do their best so that next time they could win in "The best writer" nomination. All classes are equipped at a state-of-the-art level. If it's a chemistry class, it's full of test tubes, flasks and various chemicals (safely locked to prevent children's access!) to carry on experiments. If it's a space class, the planets' miniatures are 'hovering' in the air. I can't help but make a special mention for the space education in ISM. Recently, a specialist from NASA was invited to ISM to give a master-class for the children. Moreover, ISM shared its unique experience with other schools in Moscow so that as many children as possible could have a chance to meet such an extraordinary person and learn at first hand. The main principle ISM follows – education must have no borders.
I've been delighted to see what place music has in the ISM curriculum. An extensive music programme includes playing in groups or singing in a choir. Those interested in taking their musical talents further can have individual music lessons for a range of instruments. As a person with genuine interest in music, I couldn't leave ISM without interview with music teachers. Alexey Skanavi, a concert pianist widely performing in Russia and abroad, a musicologist and a radio and TV presenter, and Paul Tkachenko, who had a busy career as a professional musician for over 20 years in Germany and the UK, had the kindness to assent to tell me more about teaching in ISM.
MD: Why have you decided to teach in ISM?
A.Skanavi: I took this spontaneous decision nearly two years ago, and since then I did never complain about that. So many bright, talented and different kids concentrated in one place create an unforgettable atmosphere that still inspires me in my work.
P.Tkachenko: I have moved to Moscow to teach at ISM. This allows me to not only spend more time with my young family, but allows me to indulge my passion for Russian culture. I had long been aware of ISM and the leading role it has in promoting British education in Moscow. It was the logical place for me to want to work.
MD: How do you manage to attract children's interest in music?
A.Skanavi: Every human being has a feeling for music, as well as some intention for music making. I am just trying to find the individual way to music for every child I am teaching. Some of them like playing nursery rhymes while singing, others prefer reading notes or playing popular classics from memory, and each intention like that may become a good start to the beautiful world of music.
P.Tkachenko: I mainly kindle the children's interest in music by playing myself. In my experience, children always respond very well to live music and this encourages them to play for themselves.
MD: What genres or styles are the best ones for revealing their capabilities?
A.Skanavi: I strongly feel that classical music is the basis for all other genres. That's why I always start teaching 'zero-level' students using the most popular Russian piano book for beginners, so called Nikolayev's School. This compilation of pieces for step-by-step progress in piano playing was made by a prominent Russian teacher in 1950-ies, and it is still the best book to start with. After mastering it, a student may choose any style or genre of music, and not only about piano playing.
P.Tkachenko: One of the wonderful things about teaching younger children is their curiosity for all kinds of music.
MD: Why is it so important to teach music since early childhood? What aim do you pursue?
A.Skanavi: My only aim is to open the wonderful world of music to all the children I teach. I am trying to do this through warming up their interest in music making. It can be started at any age, but of course, to become a professional musician you better, start as early as possible.
P.Tkachenko: Having the children experience music, we teach them how to understand through learning to read and write music. I think Plato had the right idea: 'I would teach the children music, physics and philosophy, but the most important is music, for in the patterns of the arts are the keys to all learning.'
Students of 50 different nationalities study at one school – one can hardly propose better conditions for developing communication skills and respectful attitude towards each other, which the modern world lacks painfully. When I was going from one class to another and looking at the children's happy eyes and ingenuous smiles, the words from the famous song came to my mind: "We are the world, we are the children, we are the ones who make a brighter day." And I no longer doubt they will make it.