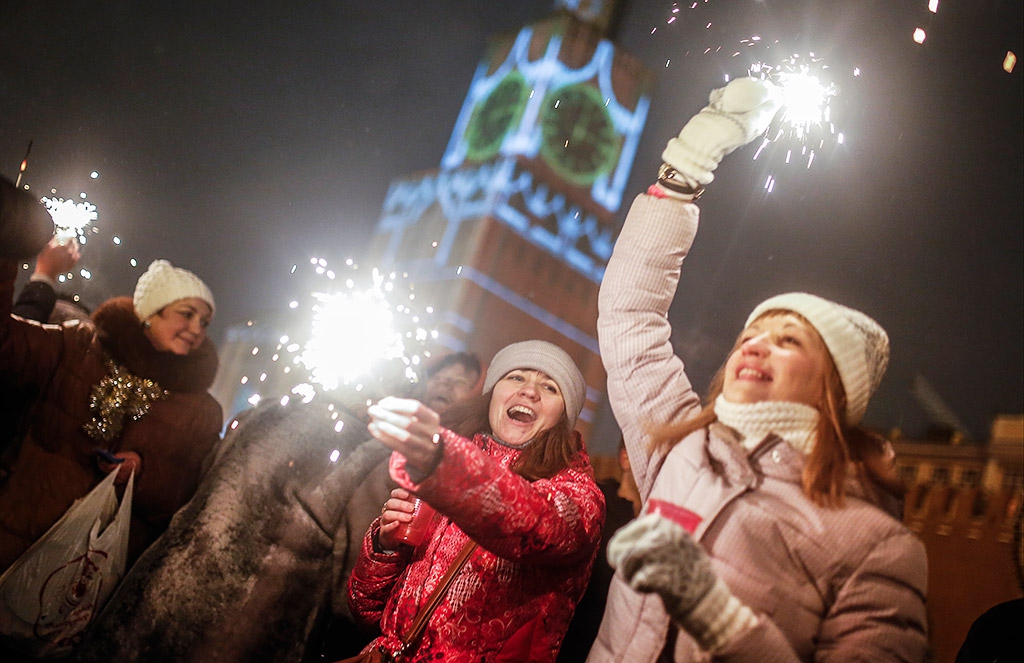 Party like a Russian
Moscow
the ultimate checklist for New Year celebration
For Russians no holiday can beat New Year. What is arguably the most important night of the year is followed by a 10-day-break and requires a lot of preparation. So pop up a bottle of champagne, peel a tangerine and read our ultimate guide for an authentic New Year experince.
Preparation
Russians tend to take New Year festivities pretty seriously, so preparations may begin as early as mid-November. Funnily enough, the Coca Cola Christmas commercial serves as an unspoken signal for New Year shopping spree to begin. If you plan on stocking up on gifts in the second half of December, think twice, as things start to really heat up be the end of the year. Luckily there are so many Christmas fairs at this time of year, that you can finish all your shopping in one weekend. The annual fair
Journey to Christmas
is a treasure trove of all things Christmassy: gifts, interior decorations and a variety of foods. The GUM Fair on the Red Square is yet another must-do, if you're looking for traditional Russian souvenirs and delicacies in the center of Moscow. And if that still failed to get you in the right mood, check out the
VDNH Christmas Fair
and
Muzeon New Year Market
. And it's not just about the shopping, entertainment is always great too.
Must-Haves
Russian children have their gifts delivered by Grandfather Frost and his fairy granddaughter aka Snegurochka, who are not in the least shy to make an appearance and do the traditional khorovod dance around the christmas (fir) tree. Those are the key elements of an authentic celebration, and while you may be reluctant to invite a couple of cosplayed strangers into your house on the New Year's Eve, getting a christmas tree has never been easier. Every December christmas tree stalls pop up all over Moscow, and you can find the one that is the closest to you on the official portal of the Moscow Government.
Food
When it comes to food for the celebration, Russians are more traditional than ever: there is no New Year without champagne, caviar and tangerines. Forget your salade verte, because here protein-rich mayo salads are obligatory, two of them, however, do have french names: Olivier and Vinaigrette. There is also Holodets (jellied minced meat), pickles of all kinds and sliced salami. Apart from that, meal choice usually depends on family traditions, but it's always a special occasion kind of food.
Superstitions
There is a common belief that the way you spend New Year's Eve is the way you will spend the rest of the year, that's why Russians usually have a quiet family celebration, eating lots of good food and washing it all down with sparkling wine. Russians are also pretty serious about starting New Year debt-free. And finally, New Year's Eve is the perfect time to wish for something: Russians either do when the chimes are striking midnight and then have a sip of Champagne or (this one requires some extra effort) write down a wish on a tiny piece of paper while the Kremlin chimes are striking midnight, then burn it, pour ashes into a glass of Champagne and then drink it.
Entertainment
Watching Irony of Fate, listening to the president's speech and visiting friends after midnight, this is what 90% of Russians will probably answer if you ask them about their plans for the New Year's Eve. But you do not have to stay at home to do all that: government officials claim there will be shows, parties and fireworks all over the city. This one is a no-brainer, but you can always come to the Red Square to see the country's most beautiful Christmas tree: you can enter the square with a
GUM Skating Rink
ticket. 11 Moscow parks have prepared great shows this year: this includes the hip
Gorky Park
, the beautifully refurbished VDNKH, the classy Bauman Garden and the lesser known but still worthy Sokolniki. If you're up for an adventure, you can have a Harry Potter style celebration at Tagansky Park, dance the night away at the Kuzminki park or get a troika ride at one of these Moscow parks.