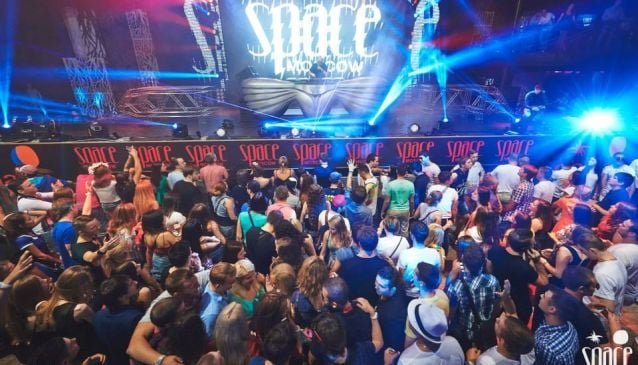 Moscow clubbing
Moscow
Moscow is a 24-hour city, it's never hard to go out.
Moscow never sleeps – a universal truth that no resident or visitor to the capital would ever dispute. Underneath those neon signs of the almost uncountable number of establishments everyone and anyone will most certainly find something to their liking. Whether you are into elite nightclubs with a pyrotechnic show, glitz and glamor and a face control policy to shake fear into the hearts of grown adults, a dingy grungy dive where the DJ spins some obscure form of electronica or a comfortable English style pub where you can hole up till the wee hours of the morning, you will surely not be disappointed because Moscow has got it all. And, of course, as Moscow is a 24-hour city, it's never hard to go out for a sobering and revitalizing meal after a long and oftentimes blurry night on town.
But it hasn't always been this way. We didn't always have clubbing meccas like ICON or Space, havens for deep and tech house lovers like Rodnya Studio or underground techno dens like Monasterio here. Moscow, too, has had to come a long, windy and - especially in the 90s and early 2000s - very cheesy and tacky path to get to where it is now. We at My Guide thought it'd be a good exercise in "edutainment" to follow the history of Moscow's clubbing firsthand through the eyes and ears of some of the city's veteran clubbers and DJs across various genres of music.
Earlier this summer, My Guide Moscow bumped into Andrey Pushkarev, a prominent Russian DJ in the house and techno scene, while attending an electronic music festival in Hungary called B My Lake (http://bmylake.hu/2014/index.php) in the Hungarian nature right by lake Balaton. After delivering a lakeside sunset set that proved to be an utter delight to the mind and ears alike, Andrey Pushkarev sat down to share with us his opinion of the now and then of Moscow's nightlife.
MD: And how do you like the crowd here in Hungary and B My Lake festival in particular?
AP: I love it here and they really like the music I play, I can really feel that. It's not the first time I'm in this country. As for the B My Lake Festival, well it's my first time here. As far as I know it is a relatively new festival but I can already feel that these guys really know what they're doing, everything has been done with the utmost professionalism here. Everyone is having fun, the line-up is top notch, the sun is shining and the vibes are super positive.
MD: When did you decide that music is what you want to do?
AP: I didn't really decide, it was kind of decided for me. I tried to leave the scene several times but it was as if some outer force just grabbed me and pulled me back, telling me to sit still and keep doing what I'm doing. It's not an easy profession. Everyone thinks it glamorous – sex, drugs and rock 'n' roll – but not many people see the other side of the profession, when the DJs are exhausted and lonely. We don't really belong to ourselves and sometimes are faced with some serious internal conflicts.
MD: You've had extensive experience performing at home in Moscow and abroad. How would you compare the Moscow and European clubbing scenes?
AP: In my opinion, this scene [underground electronic music] is still developing. It's relatively new here if we're comparing it with Europe. We've still got some way to go in the sense that we as a nation still don't have a DJ that could represent the Russian sound or Moscow sound. If we think of Germany, that list is enormous. But I'm hoping that the scene is about to take off because the new generation is finally maturing. There are new people in their early 20s who are starting to release mixes and something is ripening. That makes me really happy because I think something might come out of it. As for Moscow in particular, well, as we know it's like a country inside a country. The situation now is that all the promoters and organizers mostly attract audiences by bringing foreign artists but no one is really trying to raise their own local stars and heroes. So these clubs themselves are making people used to the thought that foreign is good and therefore few believe in local Russian DJs. They lack the support to get our local audience to respect them and value them as artists. So it's all in the hands of the DJs, the promoters and also the audience to really start strengthening our very own Russian electronic music scene.
A globe-trotting Italian with an appetite for all things fashion and glamor, Giorgio Paolucci has been in Moscow for 8 long years and has witnessed the transformation of the city's clubbing scene firsthand. On the rooftop of the elitist house music heaven that is Krysha Mira club, a glass of fine white wine in hand and surrounded by gorgeous night time views of the river and Moscow City, Giorgio recounted some of this memories as well as some of his visions for the future.
MD: Tell us a little about yourself first.
GP: I'm Giorgio, I'm from Milan. I moved here almost eight years ago from Las Vegas. I was born in Italy but since I work in nightlife and fashion organizing events I've traveled a lot.
MD: And how do you find Moscow?
GP: It's unbelievable! Everybody knows it now but when I first arrived here no one knew that it could have such potential as a pumping nightlife city. Compared to the other capitals of the world it's now one of the most active cities in terms of nightlife. It offers only the best – maybe even too much sometimes. What I mean is that it can still be a bit too glamorous as it was when I first arrived. Glamor is ok but still, some places need to be a bit more easy-going and be able to mix different people. In Europe you can find the rich partying together with artists and normal guys but here it's a bit different, it's all categorized. That is why I personally am not a fan of this face control attitude. The face control guys are your first point of contact and they look out for what kind of shoes you have on but you never know, maybe behind this simple coat or simple shoes there may be a sheikh or a millionaire. Here they just look at the brand and say "oh it's not a good brand, he's not rich so we're not going to let him in". This is a mistake.
MD: And how you compare Moscow then (when you first arrived) and now? Has anything changed?
GP: Yes, I think things are changing. Nowadays the big clubs are finished, except for the one I work for – Space Moscow. Now the trend is medium disco bars, which look like Siberia, all the Ginza projects or maybe even Soho Rooms. People have the chance to share a meal and then have fun in the same place. Actually now some restaurants try to adopt this format, it's a hybrid way to work. Before you'd have dinner and then change 20 different places. Now there are still these kinds of people but many others like one place and can stay in the same place almost the whole night and then they come, for example, here to Krysha Mira at 4am to continue their night and watch the sunset.
MD: You've seen your share of clubs in Moscow. Which ones really stand out for you?
GP: Well of course right now Space because it's a smart idea although it's not easy to make it work because the original Space is in Ibiza and, well it's Ibiza! It's not only a club because you the sea and the landscape. Our club is three times bigger than Space Ibiza but we're surrounded by a factory. Plus in Europe they have a different culture: they follow music, they enjoy music. Here, you make the club full only if there is a big name. If it's not a big name you lose money. So that's that for Space. Another nice place is Soho Rooms but it's not really my style because it can get complicated. Sure they position themselves as an international club but you can only get in if you have a lot of money. Siberia, Famous and Oblaka are also going pretty well these days too.
MD: As an expat what would you suggest to other expats to make sure they make the most out of clubbing in Moscow nowadays?
GP: First of all I suggest to expats to clear their mind and not listen to what their other friends say and just go out and be free. If you want to go out, you need to be free of thoughts because sometimes it happens that expats miss out on places just because one of their friends told them it's too expensive. Everything is expensive. If you find a drink for a 100 rubles it means it's not real alcohol and you can risk your life drinking it. So of course everything is overpriced. Also, expats shouldn't feel like they're UFOs and should try to be friendly and try to mix with the local Russian crowd. And, of course, they need to go out thinking about having real fun and not just finding some girls. Sure it's part of the game but it's not a priority!
MD: And how would you describe these local Russian clubbers in just a few words?
GP: Crazy and educated. Working at Space I see people going really crazy and really enjoying the music. I haven't seen a single fight.
MD: How do you see the Moscow nightlife scene in, say, five years? Where do you see it heading?
GP: It all depends because this city is so fast. Clubs are born and then die all within a year. It depends on the trends because there will always be people going out and having fun but in five years' time I think it will be more democratic. There'll probably be less super expensive clubs only for rich people because it's an old and dying concept. It's becoming more European and the proof is Gipsy. This club is a democratic place. It might not be easy to get in at first but once you're in you find a very mixed crowd, prices are cheaper than at some other clubs and it's super fun! Icon is similar. I think the future is more democratic. No more asking who you are, what you're wearing because there will always be a private area for such kinds of people. The main difference between now and 8 years ago when I first came it was club Dyagilev where they were selling loggias for $30,000! Now it's not so easy to sell a table for even $2,000.
Alexey Krasilnikov, aka DJ Sebastien, is the young and budding musical director and resident DJ of Barbados, a club that is visited by a more upscale crowd. Despite his relatively young age, Alexey shared some very interesting thoughts and insights into the tumultuous and fantastic history of Moscow clubbing.
MD: Alexey, could you please tell us a little about when you first got into music?
AK: I first got into music when I was a child when my parents sent me to a musical school. There I learned to play the piano, read notes and sing. After I finished school my love for music didn't end, instead it grew, especially when I started going to nightclubs. That's when I decided I wanted to become a DJ. Then my friend DJ Night called me up saying that the legendary nightclub "Opera" needs a young new DJ and that casting would be in three days. My task was to learn how to DJ in three days and as you can see, I succeeded in doing that. Unfortunately, I got to play there only once before it burned down.
MD: Tell us about the clubs you play now.
AK: I love playing in Barbados because there the crowd and the atmosphere are always super fun. Everyone's in a great mood, meeting new people and enjoying one of our many cocktails from our extensive bar menu. If I have a day off, I like going to Mendeleev to have a cocktail and listen to deep house or to some huge party even at Space or Arena Moscow.
MD: How do you remember the beginning of clubbing music and clubbing culture in Moscow?
AK: I remember the start of club life with the legendary club Dyagilev and remixes of Tsoi songs! It was a strange time – people counted money and bought tables for half a million rubles. Only a mix of disco, funky house and Russian song remixes could be heard.
MD: And how do you see nightlife now? What has changed most visibly?
AK: A lot has changed! Clubs are now being built for big events and so you can count the number of real clubs on your two hands. Now we mostly have bars and restaurants, which are called "clubs". But at least there's lots of them! They all play different genres, prices for alcohol range anywhere between 100r and 600r for a whiskey & coke, the food menu is also varied and they are all in constant competition trying to impress and keep their target audience coming back for more instead of defecting to the competitors. As a result there's way more competition in the more mainstream sector and now we also have a very powerful underground movement.
MD: How would you compare the clubbing scene in Moscow and abroad?
AK: That's a hard thing to compare because each place has its own clubbing movement specifics! Glamorous and posh of Moscow, Europe and the UK are largely similar, though not without their own unique characteristics. If you really want to immerse yourself into an atmosphere of a real party and a real musical celebration, it's better to make a journey to a several day festival somewhere! In my opinion, no club in the world can give you the same energy. People go to clubs to have a drink, meet new and old friends, dance and just get away from the daily routine for a bit.
MD: And lastly, how do you see the future of clubbing in Moscow?
AK: Interesting question! Maybe I'm a conservative guy in this sense but I think that there aren't any major changes on the horizon. The musical style may change a bit but that's pretty much it…bars and restaurants will keep on organizing parties. At some of these we'll hear pop, others will play whatever is trendy and all the while the never-ending debate what's best – tried and tested pop or new trendy mainstream – will show no sign of fading. Personally, I'd like to see real clubs such as Dyagilev, First, Opera or XIII make a comeback.