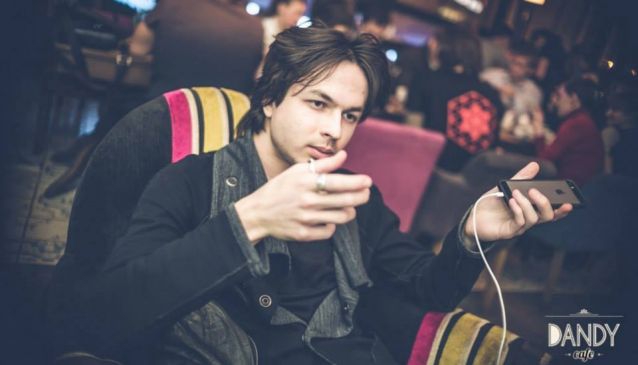 Interview with Sasha Ahmedov, young Ginza talent
Interviews
Creativity, liveliness and Europeanization for Moscow's restaurant and nightlife scene.
If you ask any Muscovite about the transformation of the capital's restaurant and club scene over the past 10 or even 5 years, you will get a unanimous answer that it has been phenomenal. Before, every place you went was extremely over-priced yet had highly unimaginative menus, crowded with the fur-clad and gold-chained nouveau riche and lacked any kind of character. In a nutshell: it wasn't easy to find a place where you could truly unwind, enjoy great food without spending a fortune and get nothing but positive vibes from the surrounding environment and lively, happy people.
And then a Ginza Project came along. From its conception, this project aimed to take Moscow's culinary, dining, entertainment and cultural scene to a new level. The people behind Ginza wanted to create a chain (in the non-commercial sense), or rather a network of restaurants and where you could spend all your free time and be sure that if it has the Ginza stamp, then you're in for a treat.
My Guide Moscow sat down to speak to one of the young talents at Ginza, Sasha Ahmedov, about the work the project does and particularly about Dandy Café, his brainchild and currently one of the hottest spots in town. Here's what he had to say:
"What can I say about Ginza? Well, first of all, I love working at Ginza…everyone is so creative, so vibrant and so alive. We're like one big happy family, really. And I love what we do. Each one of our restaurants, cafes and bars are different from each other, each one has its own unique idea. Also, we're constantly developing and expanding. Apart from restaurants, we also have a spa club, a banya and offer services such as catering or bringing a chef to your house. It never ceases to amaze me that a person can literally spend all of their free time in Ginza Project places because we have such a wide specter of places in our portfolio, from karaoke bars to fine dining to banya to ice breaker cruise ships on the Moscow River. I love it that we give people options of how to spend their time in an interesting, fun and even educational way, all in one trusted network of places."
Dandy Café in the heart of Moscow on Noviy Arbat Street is Sasha's favorite spot on Ginza's map. And understandably so. After all, it is essentially his brainchild, a baby whom he nursed to adulthood and just an overall fantastic place to go for any occasion, be it a quiet breakfast with friends, a business lunch, a laid-back dinner or a pumping night of partying and music. Who better to get the essence of Dandy across than Sasha himself?
"I love this project with my soul. I was assigned to Dandy as soon as I started working in Ginza three years ago. At first it was meant to be a confectionary but now, as you can see, it's something totally different. Dandy is a Europeanized project, it's a totally multifunctional space. Some young start-uppers use this as their office, university students meet here before or after lectures, in the evenings people come here to party.
But what's the coolest thing, the thing I love the most about Dandy? The crowd – hands down. When Dandy first opened its doors, the crowd was made up of mostly young hipsters but then slowly we started to attract other types of customers too and this seemed to happen organically, just by itself. So now younger customers and the ones slightly older all collaborate by simply coming to Dandy to make the atmosphere lively, exciting and totally unique in Moscow. This unique mix of people is the entire concept of this bright and colorful place.
This cozy homey space is exactly what I wanted to achieve, this is what I've been working towards since day one. Everyone and anyone can find something for themselves here. Those in search of a party come on Thursday, Friday and Saturday nights. If you want a chilled atmosphere with calm lounge music then midweek is just the right time to pay Dandy a visit…
And as for the food, well, there really are no limitations as to when you can grab a delicious bite at Dandy – and all at extremely reasonable prices! Both Muscovites and foreigners are very happy with the price : quality ratio. Especially for the foreigners the prices are very understandable. We often make special promos aimed specifically at expats and tourists. Our latest thing is the classic English 5 o'clocktea and although we just launched it, it's already super in demand among locals and expats! For 430RUB you get a tea selection and an assortment of mini sandwiches, burgers and biscuits for two people."
So what's next for Dandy? Sasha's got a few thoughts and ideas:
"The will of creativity knows no limits so we've got many ideas for this year and for the future. I'm not going to mention any specific examples of what we're planning on doing because I like these things to be a surprise but I love expats and we're going to pay special attention to them.
Moscow is becoming more and more European and this is great! People are becoming more creative, more abstract-thinking. This Europeanization of Moscow is especially evident in the club and restaurant scene. So I want to keep developing Dandy in this direction, to give the public a product which they will truly like, a place where they will have a guaranteed good time. And already now Dandy is one of the most popular places among Moscow's foreign audience, we get so much positive feedback from them!
Basically, we need to keep looking towards Europe and give Moscow that European vibe and atmosphere. I can't stress enough how much I love Dandy and how badly I want to keep giving this project all I've got. I get inexplicable positivity from this, I live and breath this project and at the same time I feed on the energy, philosophy, the positive results and the great mood of the clients."
So, dear honorary Muscovites, the future of Moscow's restaurant and clubbing scene looks bright, very bright, thanks to people like Sasha Ahmedov, organizations like Ginza and, of course, you! Here's to the future!