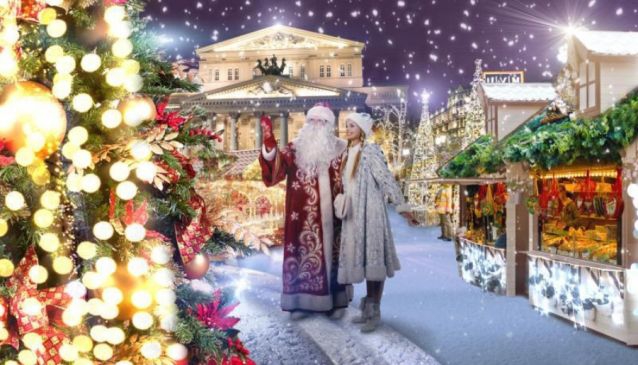 The Journey Into Christmas
Seasonal Celebrations
it includes so many wonderful festivities that it will take a whole month to enjoy them all
'Tis the season to be jolly! Moscow is doing its best to lift you up from the doldrums and put a smile on your face, with a sparkling array of Christmas and New Year's events already starting around town.
The Journey Into Christmas ("Puteshestviye v Rozhdestvo") festival opens on Friday, December 12, and runs right through New Year holiday break, finishing on January 11. And it's a good thing that it runs so long, because it includes so many wonderful festivities that it will take a whole month to enjoy them all.
Organised by the Moscow city government, Journey Into Christmas is an enormous festival at 25 central locations and 11 venues on the city's outskirts. The focus of activity is in a broad swath of the city between Red Square and Pushkin Square (including pedestrian streets Kamergersky Pereulok, Stoleshnikov Pereulok and Kuznetsky Most) and around the Boulevard Ring to the Arbat, an area that has been transformed into a winter wonderland all aglow with colourful lights and decorations.
Christmas markets are spread around a number of locations including Ploshchad Revolyutsii and Tverskaya Ploshchad, with some 400 quaint little red houses offering gifts, seasonal souvenirs, warming beverages and snacks. There'll be all sorts of fun and games for entertainment, plus master classes in crafts, singing and dancing, and even chocolate art.
Ded Moroz, or Grandfather Frost (the Russian Father Christmas), and his blonde-braided granddaughter Snegurochka (the Snow Maiden) are setting up a temporary home at Red Square's Voskresenskiye Gates and are eagerly awaiting visitors, while nearby Nikolskaya Ulitsa invites you to warm up with singing and dancing around a bonfire with a host of fairytale characters.
A giant Christmas bauble, about 10 metres high and reported to be the biggest in the world, has appeared at Manezh Square in front of the Kremlin. Wrapped in a 10-kilometre garland of 180,000 lights, it's a photogenic enough sight from the outside – but you can also go inside, make a wish and snap a "selfie". Manezh Square will also host festivities for Friday's musical-theatrical opening event, and a "Magical City of Gnomes" for the duration of the festival.
At Tverskaya Ploshchad, in addition to the now-traditional rows of Christmas market "chalets", there will also be a giant igloo – no, an ice labyrinth – constructed from 6,000 square metres of ice cubes that have been transported all the way to the capital from Yekaterinburg. Extending behind Tverskaya Ploshchad, Stoleshnikov Pereulok's festivities have "Alice in Wonderland" decorations, market stalls, cafe chalets promising bliny pancakes and roast chestnuts, and DJs to keep the party going at night.
Ice skaters can take their pick from a range of rinks varying in size and style. Ice-dance to music by Tchaikovsky at Pushkin Square, or join the crowds at VDNKh gliding around what's said to be Europe's largest ice rink extending over 20,000 square metres.
VDNKh is one of the festival's focal points, with a comprehensive programme under the moniker "Fairytale City". In addition to Moscow's main ice rink and a Christmas market, it offers a number of other attractions including an "Eko-Yolka" (ecological Christmas tree or New Year's tree) constructed from plastic bottles and illuminated by electricity generated by pedalling on a bicycle. Rides in deer- and dog-drawn sleds are promised, plus a cosy "gingerbread" house and cartoon screenings for the kids.
That's just a tiny taste of what's on offer at Journey Into Christmas; to find out more check out the interactive map and programme at festmoscow.ru/ (Russian only).
Meanwhile, there's no shortage of other Christmas and New Year's events and activities taking place outside the bounds of the city's official Journey Into Christmas celebration. On the quirkier side, the Yellow Submarine New Year's Vintage Market takes place on Saturday, December 13, at the Khokhlovka Art Kvartal on Khokhlovsky Pereulok near Kitai-Gorod metro station. The Seasons Christmas Market is set for the weekend of December 20-21 at Hermitage Garden, while Lambada Market has its New Year's DIY fest at the Tsvetnoi department store on Tsvetnoi Bulvar from December 19-21.