All Russian Exhibition centre
    All Russian Exhibition centre (VDNH) has over 150 exhibitions each year and hosts around 15 mln visitors. It occupies 2,375,000 square metres of which 266,000 square metres are used for indoor exhibits, located not far from VDNH metro station.
    It was first founded in 1939 then rebuilt in 1954, the main idea of the whole complex was to advertise and demonstrate achievements of leading Soviet industries: agriculture, different manufactures, and technical novelties in each area. In fact exhibition halls are pavilions which are constructed as temples, they are magnificent, soaring and solemn. To add more to it, there are lots of sculptures and fountains at the exhibition park. Among the most famous ones there is a landmark Rabochiy i Kolkhoznitsa (Worker and Kolkhoz Woman) which represents a dynamic sculpture group of two figures with a sickle and a hammer raised over their heads (☭). It is 78 feet high, made from stainless steel by Vera Mukhina for the 1937 World's Fair in Paris and then moved to Moscow. The monument may be named the ideal and symbol of the Soviet epoque. Pavillion design used to illustrate special features of each republic of the USSA: Belarus, Kazakhstan, Armenia, Uzbekistan and others have their own originally designed exhibition spaces with national culture features. For example, Uzbekistan pavilion still has the national coloured glass dome.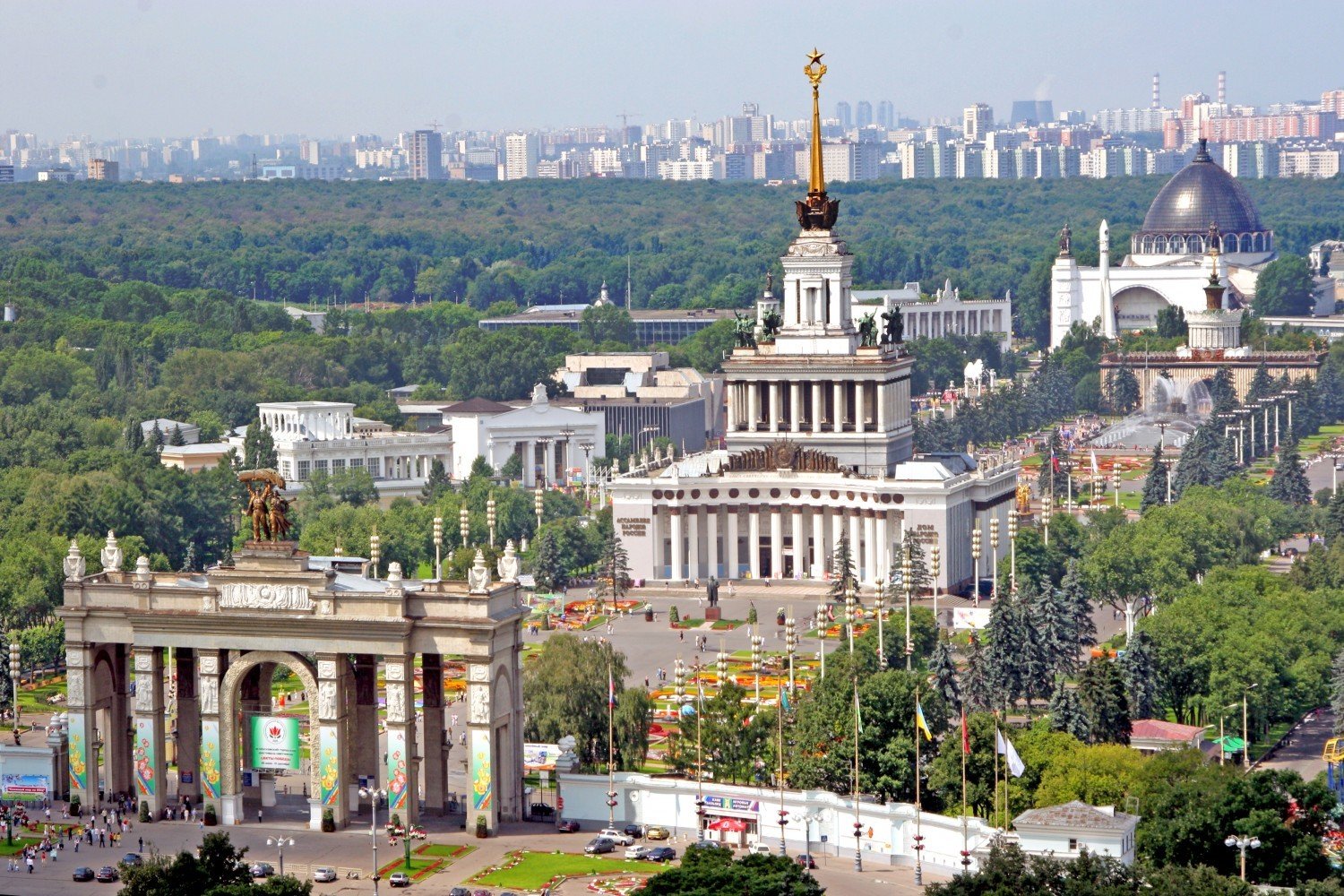 Fountains 'Peoples friendship' and 'Stone flower' are considered to be the most recognized ones, they are original, monumental and suit the general concept perfectly well.
   Now All-Russian Exhibition Centre is the operator of Russia's National exhibitions and Russia and Moscow expositions. Close to the VDNKH is the Mall of Astronauts and the monument dedicated to the Conquerors of the Cosmos, as well as the famous hotel "Cosmos". The VDNKH Exhibition Centre also has dedicated pavilions to other CIS countries such as Armenia, Kyrgyzstan, Belarus, Kazakhstan, Ukraine and Azerbaijan. 
    The VDNKH was used as a backdrop many times for famous local films such as "The Foundling", "Shining Path", "Pig and the shepherd" and "Song of Moscow." 
    You will find people zooming around on roller skates and bicycles across the vast area that the venue covers. The VDNKH is also home to many rides and carousels, shooting galleries and cafes. People come here to relax with their families and, of course, to visit the specialised exhibitions dedicated to jewelery, furs, food, cats and dogs, equipment and much more.
  Moreover, It's also a place where one may go just to have a stroll or rollerblading and cycling. All Russian Exhibition centre is waiting for you. Come and see what Soviet monumentalism feels like inside out.