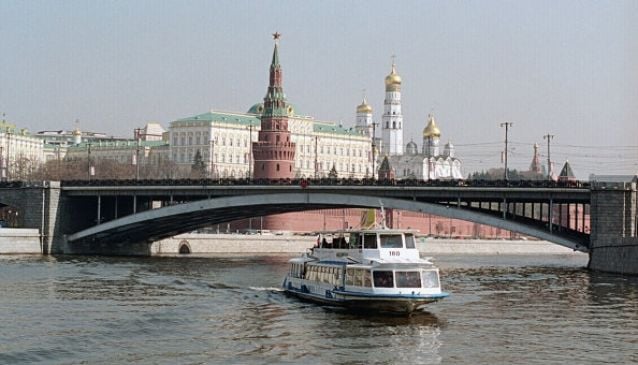 Cruising on the Moscow River
Family Fun
Approaching the city's famous sights by water allows you to see them from the best vantage points.
Everybody loves to take a cruise. The Caribbean islands, the fjords of Norway … there are so many exotic places to go. And while the Russian capital is unlikely to top anybody's list as a cruise destination, a sunny afternoon sailing on the Moscow River is an absolute must for any visiting tourist. It's a perfect, relaxing way to start your visit to this bustling metropolis.
On your first day in Moscow, head to the river pier near Kievskaya metro station, buy a ticket at the little booth, and board the next boat, or "river tram" as the locals call them. You won't have to wait long, as they depart every 15-20 minutes. These two-level retro-style ships are quite comfortable, with open-air and covered seating areas upstairs, and indoor seating downstairs where you'll also find a modest cafe. And yes, there are toilets, but don't expect anything fancy.
Take a seat, sit back and prepare for a memorable experience, as the 90-minute one-way cruise gradually builds up to a spectacular climax as it passes sights of ever-increasing renown: the beautiful Novodevichy Convent, the "wedding cake" Stalinist skyscraper of Moscow State University, the newly revamped Gorky Park, Zurab Tsereteli's fanciful Peter the Great statue, the reconstructed Christ the Saviour Cathedral, and, finally (drum roll, please) Moscow's stunning Kremlin and iconic St. Basil's Cathedral.
Approaching the city's most famous sights by water allows you to see them straight away from the best vantage points, and you can sit back and enjoy the views without the distractions of trying to negotiate unfamiliar streets in what can sometimes be an overwhelming city.
There's a stop just past the Kremlin, and from there it's not a long walk back to explore Red Square and its surrounds. Alternatively, you can stay on board to the next and final stop, at Novospassky Bridge, where the two main sights are Novospassky Monastery and the old Krutitskoye Podvorye Ecclesiastical Residence.
This is Moscow's best-known cruise route, but it isn't the only one. Others include a two-hour round trip that takes you back to Kievskaya where you started, and routes starting and finishing from Gorky Park, Sparrow Hills and the Kolomenskoye park estate. There's also a circuit around the island opposite the Kremlin, starting and finishing at Bolotnaya Ploshchad near the Tretyakovskaya metro station.
Such cruises can be taken in "navigation season," which runs from mid-April to October, with exact dates varying from year to year. Ticket prices also change, with this year's fare for the Kievskaya-Novospassky route being 450 rubles for adults or 200 rubles for children aged 6-11. You can also get an all-day pass for 800/250 rubles, allowing you to hop on and off as many times as you like.
Further afield, river trams and "rakety" (hydrofoils) run a number of routes from the Northern River Station near Rechnoi Vokzal metro station. The hydrofoils can take you to Bukhta Radosti, or "Bay of Joy," a popular picnic and barbecue spot with summer cafes cooking up tasty kebabs.
If you come to Russia in the off-season, you can still take a Moscow River cruise with the Radisson Royal Moscow hotel's gleaming flotilla of modern icebreakers – a much more classy affair than the regular river boats, with restaurant service and a la carte menus. Naturally these cruises come at a higher price, 900 rubles for adults or 650 rubles for children. The cruises last 2 ½ to 3 hours and run year-round from piers outside the Radisson Royal (aka Ukraina) hotel and Gorky Park.