Sparrow Hills
Sparrow Hills (Vorobyovy Gory), named after the village Vorobyovo, is a famous Moscow park, located on one of the so called "Seven hills of Moscow". It`s a green hill on the bank of the Moskva river, huge beautiful park, pedestrian embankment, river station, and observation platform, which gives the best panorama of the city, Moskva River, and a view of Moscow State University, it`s close to. No words or even photos can describe just how gorgeous picture of Moscow is, which takes your breath away. You`ll see it`s really rich for the sights. 
Right in front of the park, The Luzhniki Olympic Complex, the biggest in Russia and Europe with its impressive Luzhniki Stadium, is a place not only for sports but also for other activities, as musical and cultural ones. In 1980 the stadium became a place for The Summer Olympics; The Olympic Mishka was send to the night sky from here, with the sad song and spectators` tears. And now football fans are exited about The 2018 FIFA World Cup. As for the international musicians, there were such stars with the concerts as U2, Moby, Muse, Depeche Mode, Korn, The Rolling Stones, Michael Jackson and many others…
The Complex can offer different services, paintball and golf, for example. You can visit the museum of Russian sport, eat in some café or stay in the hotel.
The panoramic view can show not only some magnificent buildings, but also an amount of common dwelling houses, also known as "boxes", so typical for any Russian town.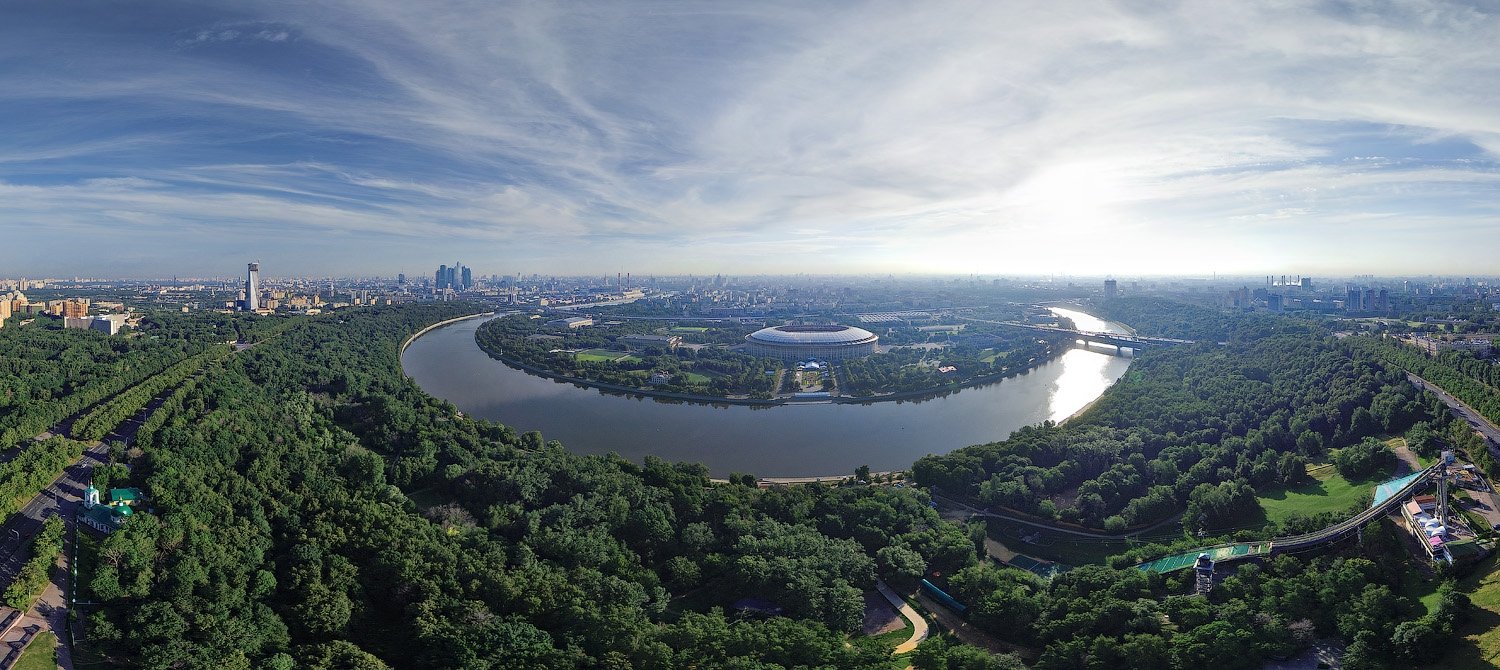 Many visitors, as well as tourists come to this place throughout the year, In addition, it has become a nice tradition for newly married couples to visit the place. You can`t leave Sparrow Hills without some souvenirs, thus there are many shops with the biggest possible variety of folk things, such as traditional matreshka and lapti (bast shoe).
It`s possible to take an elevator up to the hill and down. While going to the hill one can embrace oneself with an amazing view, take some photos. If you are feeling hungry while on the way to the observation deck, you pop in a really nice restaurant, which has a lovely summer terrace. If you are not up for a nice dine-out, then you will have a chance to eat at a fast food place, which are nearby as well. 
Metro station Vorobyovy Gory (Sparrow Hills) is very original. Its platform is just inside the Moscow River Bridge, so people start to enjoy the view just from there.
The embankment along the Moskva River is a lovely place for romantic walks, sunbathing, skating and riding; there are a special rollerdrome and bicycle rental.
Besides that, Sparrow Hills is a meeting place for Moscow bikers and street-racers. At the Moscow State University square there is a ground for freestyle; the international competitions are also set up here.
A high ski jumping hill reminds, that it`s a great place for winter sports. Snowboard and ski fans are welcome to have fun.
Sparrow hills is an interesting place, where nature is close to the city. Besides asphalt trails, there are simple paths, arbors, several ponds with cute ducks, people like to feed. On the shore they like to have picnics. It`s a lovely park, where it's simple to see squirrels, birds, a lot of bird feeders and so on.
The park has its own ecological path, river station, where you can start your Moskva River trip. Sparrow Hills is an area for different festivals, concerts and sports events, of course. It`s a usual place to come to see New Year or Victory Day firework.