Gorky Park
   Gorky Park opened in 1928 and was the first holiday park in the Soviet Union with playgrounds, sport stadiums, exhibition halls and attractions for kids. During the 'perestroika' post-Soviet transition period, the focus was on commercial activities: kiosks, shops, amusement park rides and barbecue cafés were scattered around the park and an admission fee was charged. Now, the concept has dramatically changed, and Gorky Park is a bright spot on the entertainment map of modern Moscow.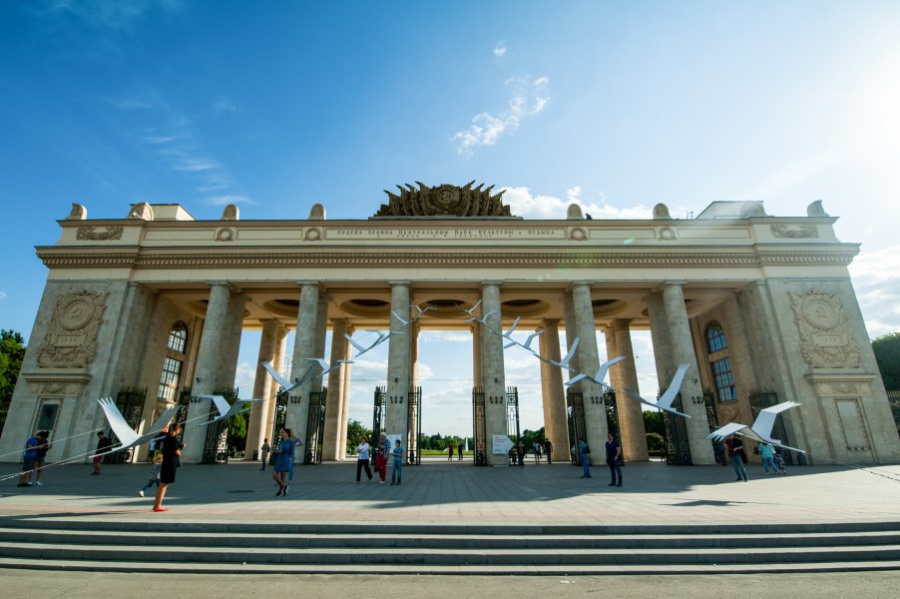 In 2011, Gorky Park underwent a major restructuring and now has a fresh, new appearance. The park's recently upgraded design makes it one of the most interesting places to spend your leisure time. About 20 000 visitors visit the 109-hectare park each day.
    The park features bike rental stations, a comfortable business area with Wi-Fi, an outdoor movie theatre and a greenhouse where you can buy fresh greens such as basil and lettuce. To contemplate the sky and the stars, go to the observatory and look through the telescope while listening to fascinating stories from astronomers. There are several different sports options in the indoor sports centre or on the park's grounds: play volleyball, handball, football and hockey or go jogging, roller blading or cycling around the park. Aerobics, yoga and dance lessons are offered. During winter, there is a large skating rink popular with people of all ages.
    Gorky Park offers a wide variety of activities for children. For example, there are three kids' clubs with master classes in art and other fun activities. You can be sure that a visit to the park will be a rewarding and enriching experience for your children. They certainly won't be bored!
    If you find that you are hungry, stop and enjoy a tasty break at one of Gorky Park's many cafés and bars. Some of Moscow's best restaurateurs have opened locations here. These places range from casual to fancy, offering beautiful interiors and a relaxing atmosphere. The park is on the Moscow River, so it's a good idea to have a summer lunch in one of the restaurants on the jetty with a wonderful view of the waterfront. You can also book a boat ride.
   Several cultural events such as exhibitions, Christmas and Easter fairs, concerts, theatre shows and environmental and charity events take place in Gorky Park. These events have become very popular among Moscow citizens. Guests to the city will also find these events to be a delight. The park often hosts architectural experiments inviting young design bureaus to decorate the park grounds with their miniature art objects. For example, in the winter, a laser light show with magic optical effects was created. Architects designed a modern Christmas tree composed of glittering white balls of different sizes (the smallest were at the top and the biggest were at the tree's base).
    In summer, originally shaped playgrounds, flowerbeds and benches turn the park into a totally creative space. The park often holds environmental events when like-minded individuals gather together to care for the environment by planting flowers and trees. On the weekends, the park is home to eco-friendly farmers' markets featuring natural and organic food such as fresh milk, butter, cheese, fruits, vegetables, breads and other delicious and nutritious treats.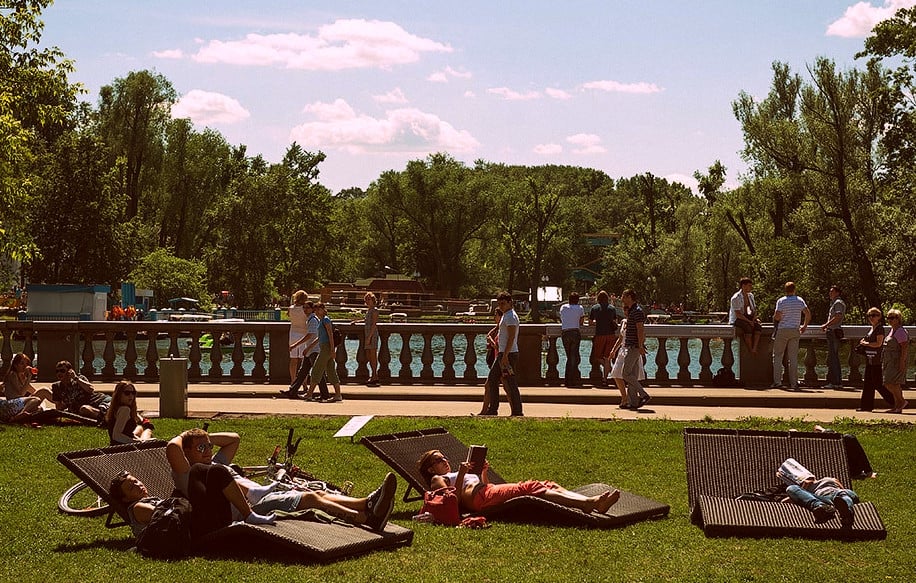 Gorky Park is open 24 hours a day and admissionis free. Parking costs 200 rubles on weekdays and 250 rubles on the weekend and is available from 10:00 to 23:00. 
      Welcome to the place of joy, creativeness and amicability. Visiting the park is an excellent way to escape the stress of living in a metropolis and recharge your batteries! To get the Gorky Park Guide please read our article!