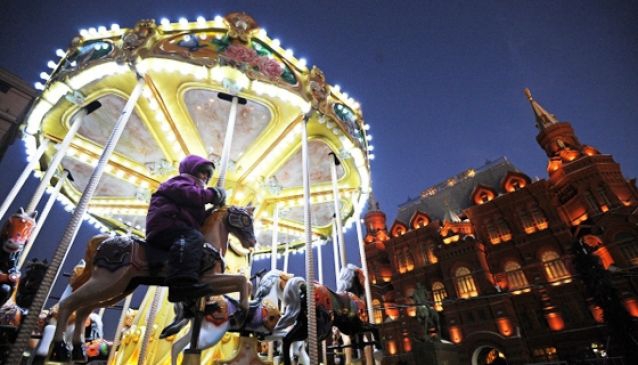 Christmas Fairs in Moscow!
Seasonal Celebrations
Moscow is in a festive mood - and the city is going all out to spread the cheer of Europe atmosthere
With Christmas and New Year's upon us, Moscow is in a festive mood – and the city is going all out to spread the cheer in a distinctly European fashion.
With the theme "Journey Into Christmas", 34 Christmas Fairs are opening all over the city on December 20, recreating the Continent's quaintest Christmas locales. And to give the festivities an authentic appearance, 270 wooden chalets have been brought to Moscow all the way from Alsace; some are even serving as "Gnome Houses" to create a fairytale atmosphere for the little ones.
Usually, the trappings that Westerners associate with Christmas are tied instead to New Year's celebrations in Russia. Instead of a Christmas Tree, the Russian yolka is actually a New Year's tree. The Russian Father Christmas, Ded Moroz (Grandfather Frost), gift-giving and big festive family feasts are also part of Russia's secular New Year's celebrations rather than the more spiritual Orthodox Christmas on January 7. So, by introducing Christmas Fairs instead of New Year's Fairs, Moscow is shaking up its contemporary holiday season with imported Western European traditions.
Some of Moscow's fairs are dedicated to a particular city or country, while others are more multicultural. Pushkin Square is striving for an Austrian flavour as it hosts the "Wiener Christkindlmarkt", or Vienna Christmas Market. Feel like visiting Denmark? Then don't miss the Copenhagen and Odense fair at 3/6 Ul. Petrovka. For a Czech Christmas, the place to go is Kamergersky Pereulok – just keep an eye out for the archway with a sign saying "Pražské vánoční trhy" (Prague Christmas Fair). You can even "visit" seven countries on just one square at Manezhnaya Ploschchad: France, Austria, Belgium, Czech Republic, Denmark, Switzerland and Latvia are each to be represented in their own individual chalets, offering their own traditional festive foods and souvenirs. Sweet-tooths should make a beeline for the Belgian chalet with its chocolates and waffles.
If that merely whets your appetite, burn off some calories in advance with a walk to Gluttons' Row on Kuznetsky Most, where you can fill up on caviar, cider and sbiten.
Those looking for gift ideas should check out the "Arts Boulevard" crafts fair on Chistoprudny Bulvar.
Russian traditions haven't been forgotten at the Christmas fairs. For traditional Russian souvenirs, head for the Arbat, Pushkin Square and Nikolskaya Ulitsa, where such fairytale Russian towns as Veliky Ustyug, Kostroma, Tula and Gzhel will present their local wares.
Besides Christmas foods, decorations, gifts and souvenirs, the main "Moskva" fair on Tverskaya Ploshchad is to host traditional Russian games and masterclasses in making craftwares and sweets.
Of course, the Russian festive season would be incomplete without Ded Moroz and his sidekick, Snegurochka the Snow Maiden. They'll be present at their own wooden house on Novopuskinskaya Ploshchad, where organisers also promise live deer who aren't averse to being petted.
Other attractions include ice sculptures at Muzeon Arts Park on Krymskaya Naberezhnaya (beside the Central House of Artists), Nikolskaya Ulitsa, Ulitsa Vozdvizhenka, and Ulitsa Volkhonka near Christ the Saviour Cathedral.
In keeping with the travel theme, the festival is organising two Christmas Customs offices (one at Tverskaya Ploshchad and one at Manezhnaya Ploshchad), which will be issuing Chistmas Passports. Collect stamps at 12 central and one outlying fair and win a prize.
The fairs run through January 8. For more information, see the interactive map at http://christmas.mos.ru/