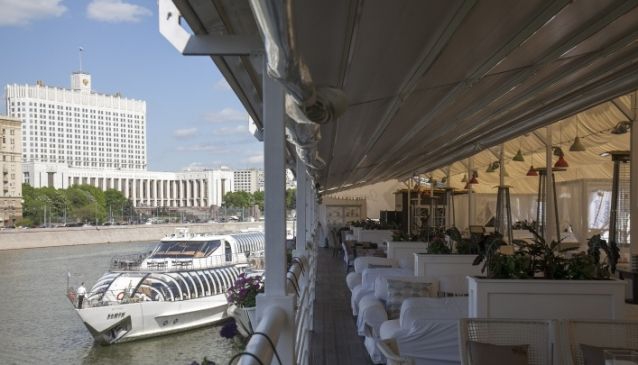 Summer in the city
Food & Drink
Here's a guide to some of Moscow's coolest, hippest, coziest and funnest terraces!
In recent years Moscow has started becoming a really amazing place to be in the summer - so much so that many locals are opting to spend their summers in the city as opposed to going to their dachas or traveling abroad!
The reason for this, of course, is the city's recent embrace of its beautiful outdoor spaces. A few years ago the mayor of Moscow recruited Danish urban planning guru Jan Gehl and his team of experts to complete a Public Space-Public Life study of the city center and explore ways to make the city's spaces more liveable and enjoyable for people.
As per Gehl's recommendations, the parks have been cleaned up and renovated, many central streets have been closed down to traffic and are now strictly pedestrian and public squares and promenades have been made pleasantly, well, pleasant!
Thanks to these changes many restaurants and cafes take their business outside once summer kicks in. Here's a guide to some of Moscow's coolest, hippest, coziest and funnest terraces!
In the city
A favorite among expats since basically forever, Scandinavia is perhaps the most non-typical restaurant on Moscow's food scene. The menu created by head chef Per Palmquist is selective and concentrates on a few beautifully prepared dishes using imported Swedish ingredients - Scandinavia's burgers have earned themselves quite a reputation around town! But it really is at its best in the summer when their huge yet cozy beer garden is open after-work drink or casual outdoor dining - gas heaters and blankets are even provided for the occasional cooler evening.
Overlooking the statuesque Olimpiiskiy Stadium, the terrace of Ragout is perfect for a hearty lunch during the day or for a satisfying dinner before heading out for night time dancing. The concept is simple but genius: an affordable place where more consideration and emphasis is put on food than it is normally expected in Moscow. Extraordinary and quaint, by Moscow standards, restaurant will make sure to see to your every Gastro-whim!
Situated over three levels in a historical building right opposite the TsUM, the location makes the spacious open-air terrace of Chips. The spot for post-shopping or pre-theater meal and drinks. As the sun starts going down, glass in hand guests get into party mode: some of the loudest parties take place on the veranda, with the most beautiful views of Moscow as a backdrop. The list of some of the world famous artists that have taken to the decks at these parties is impressive: Jonathan Ulysses straight from Space in Ibiza, Charles Schillings, Betoko, Gui J and Sahar Z. Summer.
Odessa-Mama is a regular café in the heart of the historic Kitay Gorod neighborhood offering abnormally delicious Odessa dishes. The menu enlists typical Odessa dishes based on Jewish home cooking - Poussin chicken stuffed with dried apricots, Mackerel baked with onion, Grilled mullet, Sauerkraut draniki (potato pancakes) and Vorschmack - herring pate. And the best part: all this joy can be enjoyed in a cool inner-courtyard terrace during the summer months!
There was a time not so long ago when it seemed that all of Moscow's Georgian restaurants were designed by one and the same person, and an old-fashioned person at that. But Khachapuri put an end to that. This mini-chain boasts three branches now and each of the three fully fledged restaurants has its own character. The one near Kievskaya metro stationis located on a green pedestrian strip graced by a collection of fountains and a playground, making its summer terrace the perfect place for families with kids, Tolik the little ram, keeps an eye on proceedings. The Pushkinskaya branch is surrounded by business centres, which defines the restaurant's atmosphere on weekdays as office workers drop in for lunch or dinner. But it maintains an alfresco atmosphere with a spacious patio, and on weekends it has a family-friendly vibe like at the Kievskaya eatery. The menu is streamlined and democratic, and with plenty of choice for the kids. Khachapuri also gives the old classics a modern touch.
A place in Moscow where you could go for breakfast, lunch, dinner, cocktails, dancing and then brunch; where hipsters, businessmen and trendy cosmopolites all get along in perfect harmony around the clock; and where the food and drinks are superb yet prices don't pinch? Yes, we're talking about Dandy Cafe and its lovely summer terrace from which you can leisurely observe the thumping pulse of the busy capital! Located on Noviy Arbat Street, Dandy Cafe benefits from a very central location within easy and quick reach from Arbatskaya metro station and the vibrant city feeling of the heart of Moscow. The Dandy Café team strived to create a unique gastronomic space that combines the best from all the different cuisines and the cocktail menu is among the most extensive (and democratically priced!) in the capital.
In autumn of 2014, a new star appeared in the sky of Moscow restaurants - Shakti Terrace. The name "Shakti" (power and strength in Sanskrit) was given to the restaurant of author Pan-Asian cuisine that offers unique atmosphere for gathering of interesting, intelligent and trend-setting public. Providing extra-class gastronomy, music and architecture, Shakti Terrace is situated in one of the most cult places in Moscow - Krasny Oktyabr on Bolotnaya embankment. One of the design novelties is an "airy" canopy that will rescue guests from the heat and the rain and let them enjoy the gorgeous panoramic views of the Cathedral of Christ the Savior.
If you go for a stroll down Kamergersky pereulok you'll find a pedestrian street with no shortage of bars and eateries that offer refuge from the scorching sun under massive umbrellas or simply a nice breezy outdoor sitting area to relax after exploring Moscow's historical center. There's something for every age group, culinary preference and budget!
Though not strictly pedestrian, the area around Patriarch's Ponds has some very European-style restaurants like Uilliam's where floor to ceiling means that it almost "spills" right out onto the street once the weather gets warm.
The iconic red-brick Krasny Oktyabr' (Red October) chocolate factory once operated was transformed into something quite unusual to Moscow – a bohemian island of art, fun and culture, comparable to hipster paradises like London's Shoreditch area or New York's East Village but with a twist of Moscow glamour. Places like Bon Tempi, Joy's Bar, Strelka and Reka all have spectacular terraces with the best views of the river and the Cathedral of Christ the Savior.
Not mentioning the outdoor restaurants and cafes in Moscow's parks would make this guide absolutely moot.
Gorky Park: it's safe to say that some of the nicest and leafiest terraces with stunning surroundings are located in Moscow's most iconic park. Lebedinoe Ozero has become a favorite among Moscow's trendy and hip thanks to its original interior, a lakeside terrace that allows you to gaze at the beautiful white swans swimming by and a food menu that boasts Thai and Russian classics, as well as an extensive drinks menu. It is now conjoined with 8 Oz that shares the same lake view and specializes in fresh oven-baked pizza. On a beautiful sunny day there is, perhaps, no nicer place to have lunch, a romantic dinner or just an ice cold drink than Olivkovy Plyazh (Olive Garden). Located right on one of Moscow's most beautiful embankments, this lovely little cafe has everything to create a true feeling of a summer resort: tanning beds, white umbrellas, delicious icy beverages and a fresh breeze. Mercato is a little piece of Italy in the middle of the park. Expect generous portions and authentic tastes all served to you on the restaurant's spacious summer terrace.La Boule is a very fun and young place which actually calls itself a "petanque cafe" because - you guessed it - apart from great music, live concerts, delicious French food and a great atmosphere guests can get into teams and play a game or two of petanque!
Muzeon: on the other side of Krymsky Val from Gorky Park, Muzeon is much smaller but can boast some amazing places for a bite outdoors. On a hot summer day there's probably nothing better than stumbling upon a MÖVENPICK terrace! As the name suggests, this cafe will offer sweet frozen relief from the heat under a leafy shade. Cafe Shardam is a more family-orientated place with a nice shaded terrace with gorgeous views over Moscow River.
If you're in the Hermitage Garden make sure to stop by 32.05 and enjoy a delightful meal and drink in this little luscious oasis in the center of the city.