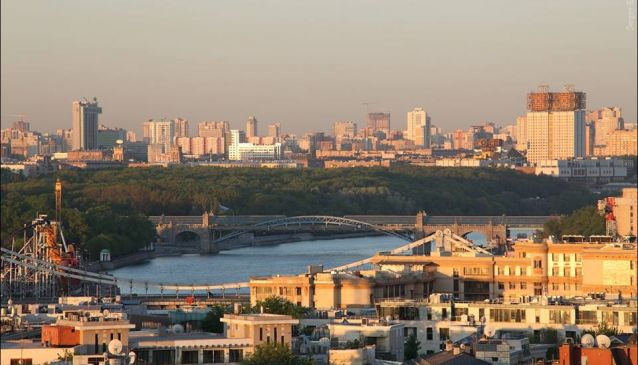 A Budget Trip to Moscow
Arts & Culture
After-dinner drinks need not suck your wallet dry; steer clear of the fancy faux-British pubs
Moscow has a reputation of being one of the most expensive cities in the world. Accounts of $12 coffees and $1,000 hotel rooms abound. And while such price tags may well be true, especially for the uninitiated tourist, it is possible to visit and not spend a fortune, and believe it or not, it can even be done on $100 a day.

Airport transfer
Moscow has three international airports – Sheremetyevo, Domodedovo and Vnukovo – each located outside the city in a different direction. The one thing they all have in common, though, is the Airport Express rail service. For just 420 rubles (about $7) you can cruise non-stop into the very centre of Moscow, arriving at major train stations with excellent onward public transport connections.
Tab: $100 - $7
= $93
Other budget options: Small shuttle buses depart more or less regularly from the airports' parking areas and usually run to the nearest metro station for a reasonable fare.
Accommodation
First and foremost, you'll be needing somewhere to stay. Naturally, the Ritz won't be on the list. For something a little more in your price range, you'd be hard pressed to do much better than Godzillas Hostel. One of the city's oldest and largest hostels, it's located in the historical center, in a pre-revolutionary building on a quiet side street. There are plenty of inexpensive cafes in the area and the metro is located just down the road. The cost of single bed in a mixed-gender, 10-bunk room will set you back $12.
Tab: $93 - $12
= $81
Other budget options: Most Moscow hostels offer accommodation of varying quality in a similar price range. One decent central option is DaHostel on the Arbat. You even can stay in the hotel, Ampir Belorusskaya, Khitrovka Hotel or Elegant Hotel, the price per night is around $40
Transport
Moscow's a big town and it can get a bit chilly out in winter, so as fun (and economical) as it might sound to get about on foot, it's probably more practical to use some transport. Luckily Moscow has one of the best public transport systems in the world – the Moscow Metro. Passengers can purchase one- and two-ride tickets for 50 rubles ($0,80) and 100 rubles ($1,60) correspondingly. Another option is Troyka card, using it one ride trip will cost you only 32 rubles ($ 0,50).
Tab: $81 - $3 (few rides with Troyka card)
= $78
Sightseeing
You can't beat free when you're on a tight budget. Hoping to entice you to purchase further paid tours, Moscow Free Tour offers free walking tours around the city centre as a little taste of what they have on offer. Departing daily at 10:45 am from beside the monument to Cyril and Methodius in the center of Slavyanskaya Square (near the Kitai-Gorod metro station), the tour runs for 2 ½ hours and takes in numerous landmarks, including St. Basil's Cathedral, the Bolshoi Theatre and the Kremlin.

The other option is Moscow Sightseeing Bus. Ticket for one day route is $12.50
Tab: $78 - $12.50
= $65.50
Culture
You'll probably want to visit a museum or two while you're in Moscow. The city offers a wide selection of museums, galleries and exhibitions of various kinds. Ticket prices vary wildly but many – including the amazing Cosmonautics Museum – offer free entrance on the third Thursday of each month. And, of course, visiting the Kremlin is obligatory, and that will set you back 650 rubles (about $10) just to wander the grounds.
Tab: $65.50 - $10
= $55
Other budget options: Check out Gorky Park – classified in Russia as a Park of Culture and Rest. In summer there's plenty going on – from free lectures to free yoga lessons. While you're there you can drop in to the Garazh modern art gallery located inside the park. Also walk down the Arbat street - a pedestrian zone with trade stalls, tiny shops and local cafes, the Russian «Montparnasse».
Eating
Moscow's dining scene can certainly eat into your travel budget with its upmarket restaurants, but that doesn't mean you can't find a filling meal at a budget price. The Grabli chain certainly has something for everyone, with literally hundreds of dishes on offer from its buffet selection. For a true taste of Russia, try the Borshch Moskovsky (125 rubles, about $2), some marinated wild mushrooms (108 rubles, about $1.80) and lightly salted herring (128 rubles, about $2). For your main course, you could try a pork shashlyk (kebab on a skewer) for 265 rubles (about $4.20) and chase it down with a delicious local Khamovniki brew for 160 rubles (about $2.50) a half-litre.
Tab: $55 - $12.50
= $4,5
Other budget options: There are numerous street food options available; some of the best are the Kroshka Kartoshka baked potato stands and the Blini Teremok pancake stands, with both offering a filling meal for about $6.
And Drinking
After-dinner drinks need not suck your wallet dry. Steer clear of the fancy faux-British pubs and drop into any one of the SPB chain's beer bars. They're as inexpensive as you'll find in the city and what's more, they serve the excellent Vasileostrovskoye range of St. Petersburg beers. Try the red, dark and unfiltered varieties – all for 189 rubles (about $3) a half-liter. If you're hungry for an evening snack, the pizza prices start from 250 rubles (about $4) for a Margherita.
Tab: $30 – $7
= $23
Other budget options: If you are looking for a watering hole right in the centre, the Kamchatka bar won't let you down with its hip crowd and super-cheap beer. The fun spills out onto the street during the warmer months.
So, you've had a good day for less than $100, and you've still got some spare change for some mineral water suvenire. Well done!