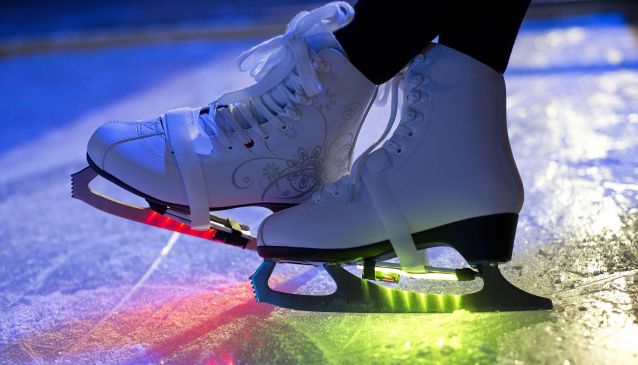 Moscow Skating Rinks
Sports
stay active, have fun and enjoy winter time on all cylinders!
Winter has come, Celsius shows minus, it's snowing outside, and you start to think twice before going outside, not speaking about doing some sport. Such a usual, familiar scene, isn't it? But Moscow knows pretty well what to offer its citizens and guests so they could forget about summer for a while, stay active, have fun and enjoy winter time on all cylinders! Moscow can be named, without false modesty, one of the best cities in the world for skating and playing hockey, which the Russians prove from year to year at various championships and the Olympic Games. My Guide Moscow has picked up the main and popular skating rinks, which have everything to not let you stay at home.
Ice Skating Rink on Red Square
The ice skating rink on Red Square, or GUM Skating Rink, is marking its 10th anniversary this year. The rink in the very heart of Russia's capital has become one of the symbols of Moscow in winter as its picturesque view is beyond compare – the Kremlin, Saint Basil's Cathedral, the lights illuminating GUM department stores, and the main country's New Year fur-tree. All this creates a really magic atmosphere around the rink. Since its opening, GUM skating rink has become a very popular and even a "cult" place thanks to the outstanding skaters and hockey players, who come to glide across the ice and draw the attention of adults and especially children to winter sports. This year famous hockey player Alexey Yashin gives several free Sunday master classes in December.
GUM skating rink is 3000 sq. m, and fits up to 450 skaters at a time. It's open from 29 November to 29 February; the workings hours are from 10 am to 12 pm. Each session lasts one hour. Traditionally, at New Year's night there a special session from 9:30 pm to 1:30 am. The cost of this session's ticket this year is 2016 Rubles. You can check the prices on the web: www.gum.ru
Ice skating rink at VDNKH (Exhibition of Economic Achievements)
This unique project is registered in the Guinness Record Book as the biggest skating rink in Russia. The rink's total area is 53,000 sq m. It is divided onto three thematic zones – extremal, for kids and for comfortable skating. Up to 4500 people can skate here at a time. Wide ice skating tracks, fantastic lighting, spacey change-rooms, skates rental and locker rooms – all for winter fun lovers to enjoy. There's even the ice police responsible for the skaters' safety. If someone falls, ice policemen are sure to come for help.
Ice skating rink in Gorky Park
It's one of the largest artificial, all-weather ice rinks in Europe with 18,000 sq m area fitting up to 4000 skaters. There are four zones here – main, dancing, for kids and for hockey. It is open every day, except Mondays, and operates from 10 am to 11 pm. For the first time Gorky Park and Muzeon Park of Arts meet winter together as a united space offering a very beautiful and comfortable skating rink. The ticket price ranges between 300-500 Rubles and is the same whether you come with skates or rent them at the rink. For those who want their kids to learn skating, there are thirty helping 'penguins' which one can hold on to in order to feel more confident on ice. For those who have never experienced ice skating, there is a special service "First Time On Ice".
Ice skating rink in Sokolniki Park
The skating rink in Sokolniki park called 'Lyod' (Ice) is 5,400 sq m, and probably the most modern and colorful rinks. Lyod has become the first music rink in Moscow – the mirror disco ball of 3-meter diameter is the main art-object. The unique light installations, including light poles brought from France, huge media-front, light boards, flood the rink with warm atmosphere and festival mood. Lyod will meet the New Year with new poles "Towers of Pisa", equipped with dynamic-light photodiode bands.
This year Sokolniki park has launched figure skating classes for kids of 4 years and above.
The rink is open from 10 am to 12 pm. The ticket costs 250-350 Rubles per 2 hours. There are many little cafes with hot drinks and snacks around, one can have a bite without taking skates off.
Ice skating rink in Kolomenskoye estate
The skating rink of 3,000 sq m is located in one of Moscow's historical places of interest, Kolomenskoye open-air museum, and has a really festive winter atmosphere. It's one of the oldest in Moscow as it dates back to the 19th century. Interesting to note that in 1812 Napoleon army headquarters were accommodated here.
Working hours: 12:00 am – 10:00 pm - week days (150 Rub per ticket), 11:00 am – 10:00 pm – weekends (200 Rub per ticket). For kids under 6 the entrance is free. The skates rental is 150 Rub per hour with a deposit of 1000 Rub or an ID. Free locker rooms, change-rooms and skates rental service are available.
Ice skating rink in Hermitage Garden
There's a choice between two rinks – with natural (in the middle of the garden) or artificial ice (next to the entrance). The artificial ice rink covers 1,300 sq m area while the natural ice one will extend to 5,000 sq m. Right on the ice guests can savour warm snacks and hot drinks which many food stands around can offer. Change rooms and skates rental service are available.