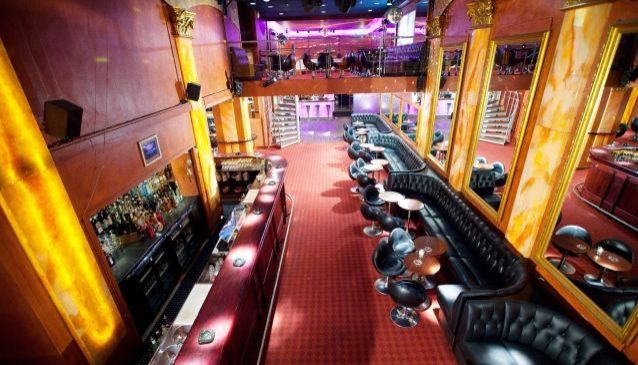 Friday Night Out!
Food & Drink
You've clocked out and are a free person for the next couple of days. Where do you begin...?
"I don't care if Monday's blue
Tuesday's gray and Wednesday too
Thursday I don't care about you
It's Friday, I'm in love
Monday you can fall apart
Tuesday, Wednesday break my heart
Oh, Thursday doesn't even start
It's Friday I'm in love
Saturday, wait
And Sunday always comes too late
But Friday, never hesitate…"
This is the start of "Friday I'm in love" by the legendary English rock band The Cure. These guys knew what they were singing about because, out of all the days of the week, Friday is definitely the one that counts. So it's very important that you make the most out of Friday and send off the completed work week into the depths of the past with a bang!
Because we understand that Friday is the day to let go, let loose and let off steam, we want to present you with the best options for making every Friday night in Moscow a night to remember. We've compiled some of the coolest places in town for every taste and every budget so read on and get informed!
So, where do we begin?
Ok, so you've clocked out and are a free person for the next couple of days. Where do you begin the self-destructive celebrations? You probably want to start the evening by grabbing a bite with your friends. Here are our recommendations:
Ragout - now here's a place that really stands out from typically pretentious Moscow eateries. The brainchild of several talented people, each with their own unique yet unifying view on gastronomy, the first Ragout was a café that opened on Belorusskaya and is now becoming a small and beloved chain in Moscow after opening up a second central location, overlooking the statuesque Olimpiiskiy Stadium. The concept is simple but genius: an affordable place where more consideration and emphasis is put on food than it is normally expected in Moscow. Fridays guests can witness an added extra to the normal menu, which is enriched by chef Ilya Shalev as he prepares dishes according to recipes of famous great chefs. Come and witness chefs Taras Kirienko and Alexey Zimin roast chickens, ducks, goats and pigs on an open fire and then enjoy the taste, enriched with specially selected sauces, salads and side dishes.
If your budget permits something a little more pricey, Lucien offers a rare experience in the dining scene of Moscow, or anywhere else for that matter. It is one of the few places to try the most refined dishes of 19th-century Russian, French and Jewish cuisines, carefully prepared according to old historical recipes. At the same time, the menu also features some of the most popular dishes of contemporary gastronomy. For tourists visiting Moscow, expats and locals alike, Lucien offers more than just a meal - it's a unique and unforgettable experience.
Balkon is one of the most glamorous yet homey restaurants in Moscow. Located on the seventh floor of the hustling and bustling Lotte Plaza business center, Balkon is within easy reach from Smolenskaya metro station, combining exuberant city vibes with a low-key ambiance. Balkon is more than just a restaurant. This is a high-class eatery with a new and fresh concept that has no equal in Moscow. And this concept is quite simple: guests can witness a real gastronomical show where the cooks are also actors who turn the preparation of dishes into a performance for all to see in the open kitchen divided into seven islands. There's an island for hot food, cold food, Asian food, a pizzeria, a bar for fresh-squeezed juices and homemade refreshments, a wine bar and a confectionary. All the stages of food and drink preparation take place right in front of your eyes.
Perhaps the most non-typical restaurant on Moscow's food scene, Scandinavia was opened long ago and has secured a reputation as one of Moscow's premium eateries with non-compromising quality and a warm, homey atmosphere. Located in the heart of Moscow, just off Tverskaya Street, Scandinavia benefits from being situated in an easily accessible central location. The restaurant maintains a peaceful and tranquil mood which makes it a favourite with expats and locals alike who return for its tried and tested quality, year after year.
Last, by absolutely no means the least, if Friday also coincided with pay day, Sky Lounge is the place to go if you want to feel like you're on top of the world - with Moscow in the palm of your hand. One of the Russian capital's oldest high-flying restaurants, the appropriately named Sky Lounge is perched 100 metres up. It occupies the 22nd and 23rd floors of the Russian Academy of Sciences building - an architectural landmark that locals affectionately call 'Golden Brains' because of the gilded cubes that crown this distinctive skyscraper.
Now, where do we get our drink on?
Ok, by now you've had a chance to indulge your taste buds and catch up on the latest developments with your friends and your brain demands to get intoxicated and truly start forgetting about the troubles of the week. You have to get your hands on some spirits quickly! Here are some of our favorite places to really kick-start the weekend:
La Cantina, Moscow's first ever Tex-Mex joint, opened its doors way back in 1994 - before Muscovites could even say Guacamole! Its colourful and welcoming exterior definitely makes it stand in Tverskaya street and makes it impossible not to pop in! As the sun begins to set La Cantina starts turning into a true Latin-American bar - loud, lively, constantly treading a fine line between full and packed...an epitome the spirit of carefree fun. The evenings turn into double trouble when local bands take the stage and the bar table turns into a dance floor. Authentic Mexican margaritas and a myriad of other very democratically priced cocktails and spirits to make your visit here an oasis of fun!
The British Queen, a brand new restaurant in the heart of the city, just a few meters away from the Bolshoi Theater and the Red Square, is a traditionally English pub, yet with a local twist. The beer menu is already extensive - 15 different drafts - and is only poised to expand to 32 types of draft. Other drinks include numerous sorts of whiskeys from Scotland, Ireland and the USA and other hard liquors, wines, cocktails with non-alcoholic options designed for those not drinking.
Another great pub-like establishment for the more mature expat crowd is Gastro Pub Chelsea. Named after London's elite Chelsea neighborhood, this exquisitely decorated gastro-pub set out to offer Muscovites a chance to immerse themselves in the fashionable Chelsea atmosphere without leaving Moscow's city center and to give expats a place to meet and feel like they're back home. Whiskey lovers will be impressed by the pub's collection of over 80 sorts from different countries, though unsurprisingly Scotland's single malts predominate. Eating and drinking are not the only things guests can do at Gastro Pub Chelsea: Fridays are dedicated to live saxophone jazz performances.
Ever wondered where the glamorous people of Moscow go to quench their thirst and satiate their desire for something chic yet not overpriced, stylish but at the same time cozy and unpretentious? For many years now, Blackberry Cafe has been their sanctuary. The hedonistic regulars have no problem admitting that they come here simply in pursuit of pleasure - pleasure from socializing, soaking in the amazing beats flowing through the atmosphere from the DJ booth, unexpected yet memorable encounters and, of course, everything that is designed to intoxicate the senses. Even the most discerning alcohol connoisseurs will be pleased with the wide selection of cocktails, wines, spirits and beers. If you want a more isolated atmosphere to spend time with your friends the fireplace zone is the ideal area for that purpose...but if you're in the mood for grooves, beats and hip vibes Blackberry hosts a number of concerts and parties featuring Moscow's trendiest acts, energetic DJs and specially invited VIP guests to make the events truly unforgettable.
Destination: dance the night away!
By now you've had enough of sitting around and your feet are itching for a dance so, without further ado, we present the more exciting places for dancing and singing the night away!
Jagger club is a favorite of both locals and expats alike and there are many reasons for this. The music format that is presented in Jagger is hard to find anywhere else in Moscow. It' s a mix of funk, rock and hip-hop. Barmen are keen to experiment with cocktails and will mix you anything you like. Professional graffiti artists were responsible for decoration of the walls.
A favorite among young expats, the Gogol' cafe-club offers separate nightclub and restaurant areas in a casual and cosy atmosphere and internal decor. The emphasis here is on alternative rock with both prominent Russian and foreign bands in the alternative and punk rock music scene performing regular gigs. A real nostalgic atmosphere is created on retro themed nights.
One of Moscow's hottest and exclusive night spots, Soho Rooms is an elegantly designed venue consisting of four rooms: Dining Room, Disco Room, Bar Room and the Summer Terrace with the rooftop pool. The Disco Room sets Moscow's nights on fire with a well designed dance floor and a stage that is seen from every corner. This is the "It" place for Moscow's nightlife, the place that took over as the capital's new elite wonderland.
Propaganda was one of the first dance clubs to grace Moscow's nightlife. Whilst many others nightclubs fell to the wayside over the years, Propaganda has stood the test of time and even garnered a sort of cult following, making it as relevant and popular today as it was over ten years ago. The music is a mix of the best thumping house, deep house and techno sounds. Propaganda is very casual and inexpensive by Moscow's standards.
From the day it opened, Club Solyanka immediately caused a keen interest in Moscow's nightlife crowd. Solyanka club stands out from other clubs in Moscow as it gives you the impression that you're at a party at someone's home. It does not target any specific clients...the cozy and comfortable surroundings may appeal to anyone. Music-wise, Solyanka plays host to some of the coolest parties where the best alternative electronic DJs from the West grace the stage upon their visits to Moscow.
Feel like dancing to the beat of a different drum? It's time to discover Microphone Bar. While other Moscow clubs tend to be glitzy and cavernous, Microphone's three interior spaces more resemble cosy lounge rooms, with comfy sofas and retro motifs, such as Melodia vinyl records serving as place mats. The walls are decorated with posters of The Beatles, Jimmy Hendrix, and movies of Hollywood and Bollywood. Books and knick-knacks on the shelves add to the homey feel, so you can imagine you're partying at a friend's place or even taking part in the Russian 'kvartirnik' tradition, where musicians and their friends gather in someone's home for informal concerts and sing-alongs. With a different entertainment program every night, and karaoke starting at 10 pm you should join in the party and be a star of the show!
More mature businessmen living in or on a visit to Moscow will almost uniformly say that their preferred place to be on a Friday night is Night Flight. The club has been around 22 years and is the oldest club and restaurant for Moscow's expat community, and sophisticated Muscovites who come here for fine food, beautiful company, second to none drinks and to party the night away well into the early morning hours. On Moscow's main Tverskaya Street and within walking distance from the beautiful Red Square, the location could not be more perfect! There are three bar rooms to choose from as the place gradually fills with some of Moscow's most stunning and stylishly clad ladies. The main bar is big and spacious, offering plenty of room for guests to mingle and interact with each other or with their new friends. The DJ spins a retro soundtrack as well as contemporary chart tunes to make sure the dance floor is always hopping. For those who prefer a more private setting the relaxing VIP is the perfect place to be.
I've dined, drank and danced...now, where do I go?
So, you're still alive after a wild night and looking for an after hours place that is slightly more calm but not without cool after-party vibes? Look no further!
Located on Noviy Arbat Street, Dandy Cafe benefits from a very central location within easy and quick reach from Arbatskaya metro station and the vibrant city feeling of the heart of Moscow. This is the place where you can go for breakfast, lunch, dinner, cocktails, dancing and then brunch. A place where hipsters, businessmen and trendy cosmopolites all get along in perfect harmony around the clock. And a place where the food and drinks are superb yet prices don't pinch.