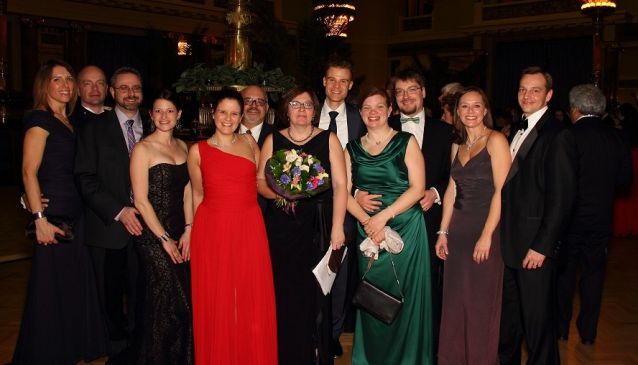 Embassies of the World Dinner & Ball
Arts & Culture
the beginning of spring with IWC
This year the 18th Embassy Dinner Ball, held on 1st of March by the International Women's Club of Moscow at the Metropol Hotel, has marked the beginning of spring. It has become a good tradition to host these events annually and gather like-minded people to communicate, share thoughts and ideas, and spend wonderful time in the company of friends.
At all times ball was a quintessence of luxury, sophisticated taste and, of course, feminine beauty. No wonder in the 16th century it was a woman, Marie de' Medici, who made balls and masquerades especially popular throughout Europe. And nowadays the International Women's Club of Moscow has undertaken a goodwill mission to revive this enchanting festivity, and performs it gorgeously. However, unlike the balls dedicated to celebration of significant events in the Royal family, as a sign of prosperity, the events arranged by the IWC Club are aimed to provide charity support for children and elderly people. Moreover, to touch this faerie and become a part of such noble cause, you don't have to be of the royal blood and have a high social status. All you need is to be open to communicate with people from all over the world and willing to make your own life and lives of those, who are less fortunate, brighter.
Established as a not-for-profit organization, the International Women's Club of Moscow promotes friendship and co-operation between women and men of all nationalities – it bridges different cultures. This year the IWC with 700 women representing 65 countries is celebrating its 35th anniversary, being even more active in fundraising through all sorts of fun and exciting activities, the proceeds from which are donated to charitable activities, whether it be financial support, medical care, or some other kind of aid for children, as well as for the elderly and destitute. Everyone can come into her or his own in the IWC – there are various interest groups, ranging from arts & crafts to languages, from music to outdoor sport and from cooking, wining, and dining to children.
As tradition demands, the 18th Embassy Dinner Ball started with gatherings at the embassies and ambassadors' residences. The embassies of Angola, Chile, Egypt, India, Poland, Serbia, Switzerland, Uruguay, and the USA have hosted gracious dinners. Afterwards, the Metropol Hotel has welcomed the guests in its luxurious hall for an unforgettable ball. Elegantly-decorated ballroom, fine cuisine and live music, beautiful ladies and gallant gentlemen in evening dresses – it seems a scene out of novel has been realized in details. And the Metropol Hall with its beautiful and luxurious ornaments, unique stained-glass roof, marble fountain, monumental lamps, and cozy stage is simply perfect for this purpose. The Mirror Hall and legendary Red Hall have been also reserved for the IWC ball. The Mirror Hall has served as a reception area full of extensive hors d'oeuvre buffet and wide selection of international wines, liqueurs, spirits, beer, and, of course, non-alcoholic beverages. The silent auction with a complete trip package to Egypt and an exclusive Henk briefcase as highlights has been also carried on in the Mirror Hall. The guests, who wanted to get engaged in conversation in a quite atmosphere, met in the Red Hall.
Of course, no ball can go without good music and dances. The bands Kreda and Lexicon, DJ Albert Simmons, talented piano-player Tanya Brechin and singer Sharon Wilson have truly made the night. The performance was followed by an exciting raffle draw with such prizes from generous sponsors, as BMW bike, spa weekend stay in InterContinental Hotel, newest exclusive book edition by Louis Vuitton, champagne Magnum Moet & Chandon Gold Edition, Turandot voucher, Samsonite Suitcase, Metropol Hotel stay etc. The35th anniversary cake cut by the IWC President Izabella Zajaczkowska has become a high point of the evening. At the end, all the guests were given a final keepsake photograph by professional photographerMs. Natalia Inkina and a gift bag with Ahmad tea collection, Clinique perfumes and cosmetics, Lindt chocoloates and magazines.
Thanks to everyone, who got involved in the evening and made an invaluable contribution, the 18th Embassy Dinner Ball was a huge success!