Kitay Gorod
Kitai-gorod is the oldest district in Moscow, almost as old as Kremlin. There are several versions of its name, but the most likely one dates back to 1530 when Petrok Malyi, an Italian architect, who had been building a fortress to save the town from Tatar attacks, named it 'citta'  (which is 'town' in Italian). His Russian apprentices misheard it and pronounced as Kitai, so it has nothing in common with Chinese at all although in modern Russian [Kitay] means China.
Kitai-gorod goes from Red square, in the north borders Teatralynaya square and Teatralnyu proezd, in the east with Lubyanka and Old squares, in the south with the Moscow river.
Originally it was an artillery fortress with twelve towers so its defensive walls were low and broad to protect Kremlin from invaders. They wonderfully remained untouched by time until the 20th century and were restored only in early twenties but then demolished again in thirties due to the motto of the Soviet epoque 'Destroy the old, give the way to the new'.
Unfortunately, ancient walls of the fortress and many other historical spots are lost today but there are some totally amazing streets like Varvarka or Ilyinka, marvelous Gostinuy yard where tourists may see examples of old Russian architecture before 18th century. Of course, there are lots of museums, beautiful churches, shops, nice eat outs and night clubs too to spend a good time there.
If you want to feel old Moscow atmosphere, Kitai-gorod is something that it's impossible to do without when you are in the city centre. In spite of a big variety of design styles in Moscow architecture these streets managed to keep its original charm and elegant diminutiveness.
Kitai-gorod is famous for its churches and cathedrals and has the highest concentration of them on central streets, it's a historical centre and all construction works are forbidden. Museums and old buildings are restored and open for curious tourists, one of the most famous shops GUM may be found there.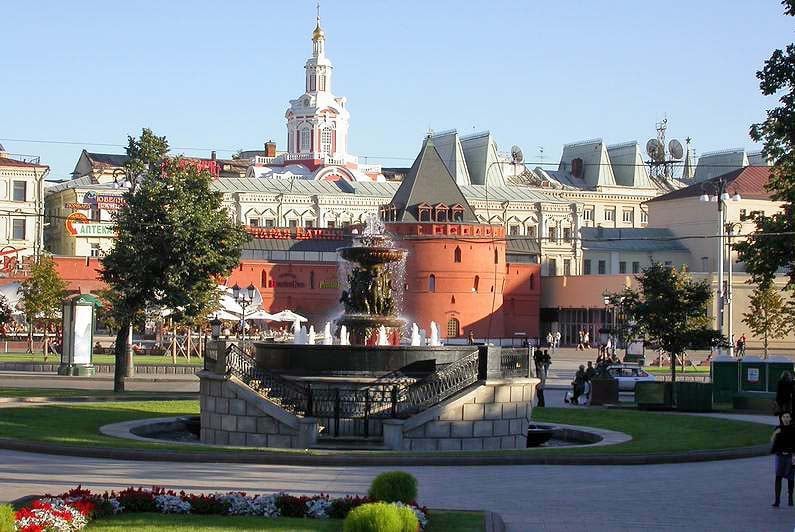 If you're walking around Kitai-gorod, remember to have a meal at the restaurant 'Kitaigorodkaya stena' with Russian and Tatar cuisine, actually it is a museum because it is in the old building with magic historical atmosphere. The restaurant is easy to recognize due to a real falcon welcoming guests at the restaurant.