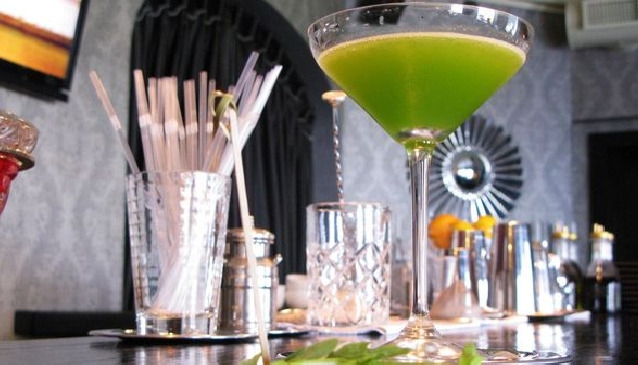 Shaken and Stirred in Moscow
Food & Drink
This place offers a delectable selection of mixological concoctions
Russia is famous for many things, from caviar and communism to ballet and borscht, but perhaps the product with which it is most closely associated is vodka. This is the spirit that no Russian celebration is complete without, and which may well have had a direct influence upon the decisions and creations that have shaped the country's history.
Indeed, it is tempting to imagine the injection of bravado vodka might have given the revolutionaries who stormed the Winter Palace in 1917, or the boost in confidence it might have bestowed upon Shostakovich when he wrote his gutsy Fifth Symphony. Perhaps it was in some way responsible for the drawing of the Iron Curtain, or for the feats of mental ingenuity needed to get the first human being into outer space?
Today, it is responsible for more headaches than heroics, whether imbibed during the excesses of Moscow nightlife or as a simple nightcap at home. It is a startlingly versatile drink, traditionally taken neat but as common now as a fundamental component in the cocktails mixed in bars and clubs across the entire country. Indeed, this is Russia's national drink, and one of the finest places to try it is at Martinez Bar.
Taking its name from a cocktail that dates back to 1887, this place offers a delectable selection of mixological concoctions, though its flagship tipple is the martini and its many variants. This would surely have made Martinez Bar James Bond's first port of call whenever completing a mission in Moskva, and he would no doubt have been drawn in by the bar's sleek yet unsuspecting exterior, enticed by its refined décor and sophisticated ambience, and above all impressed by a drinks menu that has been compiled by one of the world's foremost cocktail makers.
In 2004, Seyran Gevorkyan won Havana Club International's biannual Cocktail Grand Prix; in 2005, the Drinks International Cocktail Challenge; and in 2006, he was named GQ's best bartender. In other words, this is a man who knows a Cosmopolitan from a Collins, a student of his profession who treats his job as an art, not a chore, and who is able to produce some of the most exquisite mixtures that will ever pass your tonsils.
The menu at Martinez Bar is adorned with a number of drinks invented by Gevorkyan himself, including the Acai Fresh, Pushkin Tini, Acai Sour and Fieda, though the cocktail for which he is best known is called Red Dress. Combining fresh raspberry, cranberry juice, kumquots, sugar and vodka, this drink has a rich crimson hue which, when poured into the curvaceous contours of a martini glass, takes the form of a lady's dress, hence the name.
Other notable drinks on the bar's menu include the Mai-Tai, which combines rum, orange liquor and almond syrup with a number of fruit juices to produce a refreshing cocktail that should really be sipped on a white sandy beach, and the Silent Martini, which fuses vodka, lime, sugar, ginger juice and rocket leaves into a novel drink that is served with small chunks of cheese.
But it isn't just drinks that Martinez Bar does well, it also has a food menu that deserves to be considered among the best in the city, which is no mean feat, for in Moscow restaurants are, generally, of a sublime standard. Particularly titillating are the scallops served on lime slices, mint and daikon, and the divinely-cooked beef steaks presented without fuss alongside roast vegetable and a pepper sauce.
Martinez Bar is an ideal place to go for just about any occasion. This is a venue where you can lounge in the daytime and conduct a business meeting, or you can bring friends at night to swallow cocktails and relax against a backdrop of tasteful music and well-placed lights. It's unpretentious yet trendy, smart yet laid back, and as such is likely to suit all clientele. It would be a wild exaggeration to suppose that this is where the next chapter in the Russia's history might be written, but it certainly deserves a place in the annals of the cocktail.