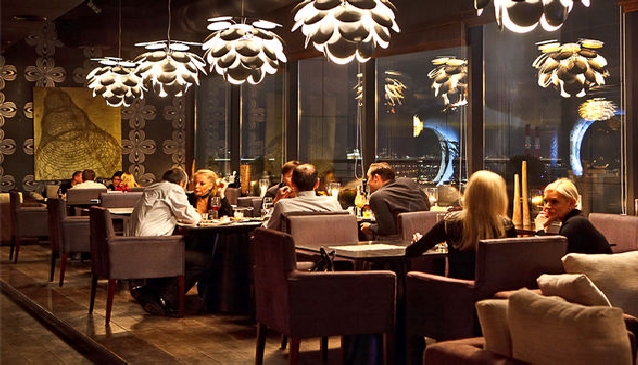 Raising the Bar
Food & Drink
Kalina Bar places a great deal of importance on atmosphere
There's something inherently exclusive about places you have to use a lift to get to. They are, by definition, beyond access by conventional means. It may be that they have been carved into the earth's blanket, or raised to the vantage of an eagle atop a sky-scraping tower. Either way, it costs more money and effort to put them there than it would to simply build at ground-level, and the reason for doing so must therefore be exceptional.
Perhaps the greatest asset harboured by places requiring a lift to and a drop from (rather than a drop to and a lift from) is their view. Everywhere with a window has a view, of course, but the greater the altitude, the more panoramic that view is likely to be, and the greater the number of people you're likely to look down upon both literally and figuratively, like a royal presiding over their kingdom – or, for that matter, a Tsar looking out across the vast unending spread of Russia.
And, in this sense, there's no better place to feel like a Tsar than in Moscow's Kalina Bar, which is close enough to the rest of the universe to make ears pop as they ascend skywards in a glass-walled lift that unravels the city's skyline like paper being peeled from a Christmas present. It is a vista revealed in its fullest splendour once the lift reaches the 21st floor of Lotte Plaza, where it announces to its passengers a plush entrance that fronts an even plusher interior, all of which is enfolded by a wall of windows that look out upon the blanket of twinkling lights that veil Moscow by night.
Kalina Bar places a great deal of importance on atmosphere. Décor is bold and chic but never imposing, and the largest rooms are dark enough to encourage cosy sects, while being penetrated by carefully-placed columns of light that ensure tables and chairs can be navigated deftly even after the final cocktail of the night. Additionally, the music is tempered at a pleasant level; loud enough to infuse a night out with good feeling, but quiet enough to enable conversation.
There are also a number of private rooms that exude a decadent opulence which guests can do their best to ruin with one of the bar's set of karaoke machines. Alternatively, these spaces can be used for quiet dinners serviced by Kalina's much-revered restaurant, or simply to relax in billowing clouds of hookah smoke. Most people come here to drink, however, usually before heading out to one of Moscow's thumping nightclubs, and their drink of choice is usually one of Kalina's tongue-melting cocktails.
The man responsible for some of Moscow's most delectable alcoholic concoctions learnt his trade in London, and is said to have won acclaim – rather extraordinarily – from the taste buds of Robert De Niro. His evident experience and standards of perfection have manifested themselves within Kalina's bar menu, much of which features cocktails crafted around berries and vodka, and all of which is guaranteed to leave you demanding the bombastic barmen for another.
Even without the cocktails, the atmosphere, the food and the karaoke, however, Kalina Bar would be one of Moscow's premier places to visit once the sun goes down and the city comes out to play, for its location elevates it to a stature that is head and shoulders above the competition. Indeed, there can be no finer place than this to absorb the full breadth of Moscow's cityscape, and that alone is worth checking out on your next visit to Russia's capital.