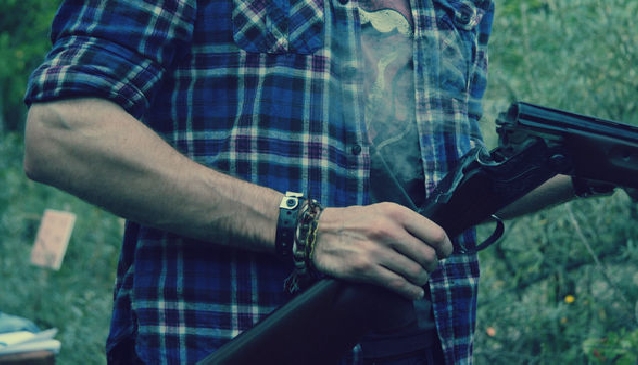 Paradox Lodge
Adventure
This is a place where the shooting elite come to train and compete
Humour me for a moment. Find the nearest sledgehammer, hand it to the person closest to you, and request they swing it repeatedly into your shoulder, without stopping, 35 times. Now ask yourself, how does it feel? Painful? Tender? A tad dislocated? This is the same sensation a shoulder suffers after buttressing 35 blows from a shotgun, and consequently how my own shoulder felt for over a week after visiting Fox Lodge.
15 of the 35 bullets that I sent hurtling found their target, adding their number to the million smoking carcasses that are tossed into the bins at Fox Lodge each year. Fortuitously, the only things that got in the way of my absent-minded shots were lumps of airborne clay; presages of a long drive back to Moscow bereft of a limb, or surprising some unsuspecting soul in an explosive and entirely unintentional fashion, went unrealised.
The shooting complex located at Fox Lodge is Europe's largest, featuring a full complement of ranges spanning recreational forested areas to Olympic-standard sporting stages. This is a place where the shooting elite come to train and compete, a state-of-the-art facility which dispels any preconceptions that marksmanship involves no more than a vague sense of aim and a firm trigger finger.
Yet – and this is a big, big yet – Fox Lodge offers much more than this. The lake that rests like a giant jelly at the centre of the 200 hectare sprawl sets a picturesque backdrop against which the rest of the site unfolds, within it water clean enough to drink. Its shores offer a delectable setting for the lodge's spa, a building which ticks every eco box in the book.
It'd take a lot of searching to find a finer place to detox, de-stress, de-hair and all the other things one normally does in a spa; every feature of the building has been considered, crafted and cared for to ensure tranquillity reigns throughout. The saunas are particularly spectacular, with broad windows that allow guests to soak in an expansive vista while their towels get soaked with sweat, along with an ice hole used in the winter to cleanse grimy pores in a flurry of hot and cold surprises.
On the other side of the lake Fox Inn provides cosy rooms within a funky wooden building which lies in a snake-like squiggle. Nearby, the Lodge's restaurant serves simple – albeit enormously tasty – cuisine from both Russia and Europe, along with an extensive selection of wine stored in a dedicated cellar. For breakfast, I can personally recommend the pancakes with salmon as thick as a rump steak, along with syrniki – fluffy dollops of dough that come with a type of sour cream that's made by Fox Lodge itself.
Beyond the restaurant, against a hillside that rears the entire site, a sign announces 'Foxland' in the style of the famous Hollywood landmark, presiding over an expanse that crawls with deer, chickens, cows and sheep, and is dotted with a striking red reception building, a Safari Centre that contains entertainment and conference facilities, an Aeroclub with a helipad that guests are welcome to use for their private aircraft, and a dog centre where you can train your hound in one of six intriguing programmes: sporting, obedient, working, young, master and champion.
Altogether, it is a magnificent place to unwind, totally removed from the city that belches just 39 kilometres away. Yet it is an establishment fundamentally designed for marksmanship, a fact attested by a ginormous mound of discarded shotgun cartridges that is unavoidable as guests enter the complex, and therein an interesting paradox is raised.
Fox Lodge guarantees the relief of stress, and it does so by combining gentle forms of relaxation with more aggressive ways of purging pressure. For once it could genuinely be proffered that this is a place with something for everyone; the kids can busy themselves at the bowling alley, Mum can smother her face in mud or potter around Foxland shop (assuming she's got a predilection for shooting, hunting or fishing wear), and Dad can unleash hell through the two smoking barrels of a shotgun.
And, ultimately, at the end of it all everyone returns home with lighter minds and bodies refined. Apart from that ache in Dad's shoulder, of course…