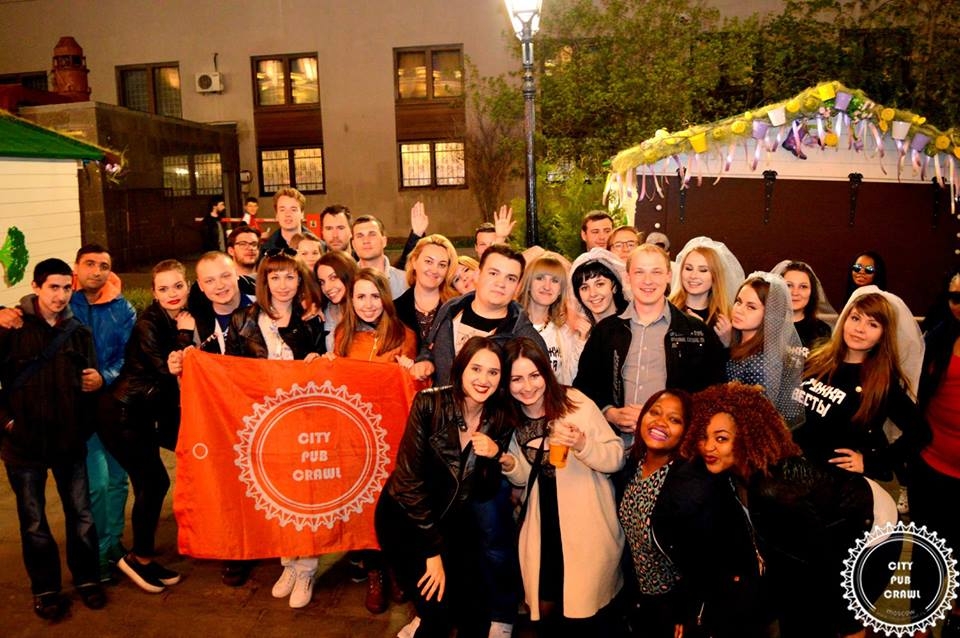 Once with Moscow City Pub Crawl
Moscow
during this tour you really start to think that these guys are your old friends and how cool that you've finally got together.
As some of you may know, several months ago Moscow joined the ranks of cities where pub crawls are arranged. Of course, the team of My Guide couldn't stay on the sidelines. We've decided to get to know what these pub crawls actually mean and to release an article to share with you, as it usually happens. But not this time.
Here I'll tell you about my own experience in Moscow City Pub Crawl, which I attended at the end of April, 2016. For those who still don't know what 'pub crawl' means - just a small reference. Pub Crawl (or "pub tour", or "beer crawl", or even "bohemian death march") is a night devoted to drinking at a series of pubs. According to the Oxford English Dictionary, this
term
has been in use since the late 19th century. The New Partridge Dictionary of Slang and Unconventional English informs the word "crawl" can be defined as a noun (a drinking session) or as a verb (to move from one bar to another).
So, how has my crawl started? On my way to the first pub I was a little bit concerned about the group, to tell you the truth. I mean I was trying to guess what kind of people attend such events and how I'd feel being among them. What was my surprise when that turned out to be the most pleasant part in the evening. Our group consisted of about 35 totally different people from all over the world: physicists from Germany, managers from Austria and USA, gorgeous girls from Botswana and South Africa, football trainer from Armenia, true-born stand up comedians from Ukraine. And, of course, the icing on our crawl cake - bridesmaids with white veils, who made it a hen party. How did I learn all of them? Well, that was the first task - to find out and remember the names of all members! Yes, we had tasks at all bars indeed! Each completed task brought us a dot on our special bracelets. Those who got more dots won prizes at the end of the night. Don't judge me harshly, but the whole tour was so exciting that I don't even remember what prizes my friends won. It's a bit strange but during this tour you really start to think that these guys are your old friends and how cool that you've finally got together.
Now I should make a quick stop and say 'thank you' to our tour guide, the person who actually gave us those tasks and didn't let us get lost while crawling from one pub to another, who made us all feel at home from the first minute we entered the pub. And, of course, we had a professional photographer who was capturing the best scenes and emotions. The pictures are truly alive! If you are not an active user of social networks or simply want to keep your privacy, don't worry. The group is asked in the very beginning if there is anyone who doesn't want to be photographed. But then you should keep your eyes open not to get into the group pictures. I must admit the tour organizers were much more cautious about us than we had expected – they asked us if someone had any allergies so that the barmen could make appropriate drinks. By the way, if you don't speak Russian, it's not a problem at all. All announcements are made in both Russian and English. One more plus to the crawl is that you can have the drinks which you won't meet in ordinary menu of the bars, as the mixologists improvise cocktails specially for the pub crawl members. For example, have you ever tried a green cocktail made of beer, mint and liquor? We had it in the first pub which is called White Eagle Pub. After that we headed towards Gogol Pub, where we had another task – to drink the shot without hands. The pictures speak for themselves – it was so much fun! The third pub, the famous Coyote Ugly, gave us a lot of room for dancing, not only on the dance floor, as you can guess. It is worth noting that the pubs are perfectly selected in one area. We enjoyed our walks between the pubs not less than having fun in the pubs. We were very lucky, as the weather was wonderful. And Moscow in spring is simply fascinating, smothered in flowers and lights. Porky's was the fourth pub on our route that day. Here I should warn you – don't forget your ID! Many clubs have strict rules and simply don't let you in unless you can prove you are above 18. Almost all members went out from Porky's with charming moustaches. Everyone who agreed to have them painted got a free burger. And the final destination was the glamorous night club - Lookin Rooms where many of us stayed to dance long after the tour was over.
Usually the words "pub crawl" trigger associations of drinking a lot of beer or other beverages. Now I can say with conviction that it's not true at all! If you don't want to drink alcohol, you can choose non-alcohol tour. We had non-drinkers in our group too. It doesn't matter if you choose a tour with or without alcohol – jokes, laughter and joy are delivered to all for free. So, Moscow City Pub Crawl is not about drinking, it's about having so much fun and making new friends for several hours… or even for a lifetime. Who knows?