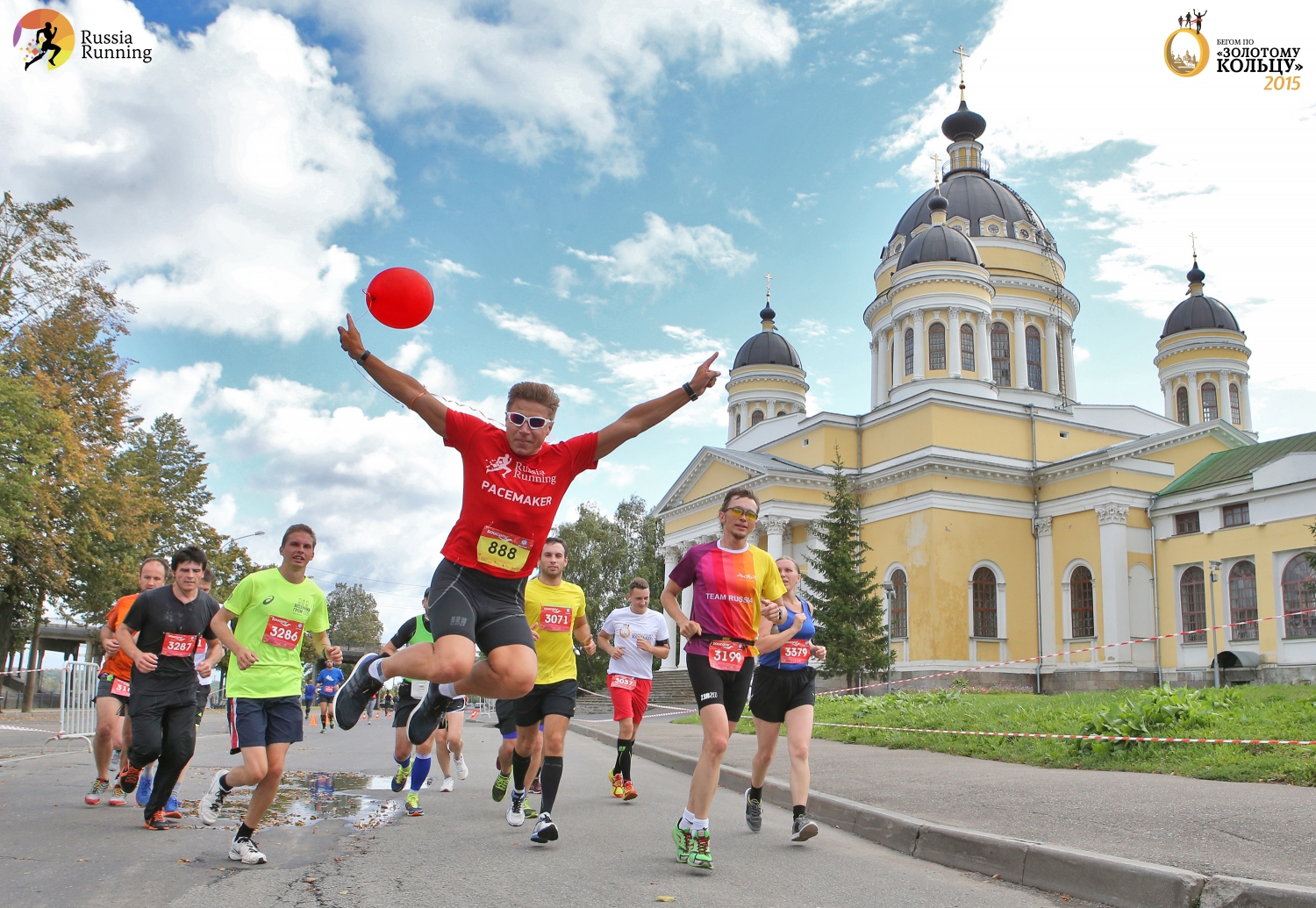 "He that runs fastest gets the ring"
Moscow
Along with social networks, weekend travels and online shopping, doing sports has become a worldwide trend. The leading universities and research centers regularly issue reports on positive impact of sports on human's health and life duration. According to Cambridge University scientists, running helps brain grow and memory improve. The Copenhagen City Heart Study showed that jogging a couple of days in a week results in a lower mortality rate.
Russia keeps up with the rest of the world. The number of sport-oriented goods and food here is constantly growing. People are not limited to fitness and wellness centers. Parks and embankments in Russian cities are always full of joggers. Runners get together in various marathons, which create incredible atmosphere of collectivity and develop competitive spirit.
One of the most large-scale running projects in Russia is the
Golden Ring Run
, which takes place in the historical cities. Launched just two years ago, this project today united 20,000 runners from 20 countries and 60 Russian regions.
Each city the runners visit with the Golden Ring Run is a true gemstone of Russian cultural heritage. Let's mention a few of them. Yaroslavl is considered to be the birthplace of the Russian Theater, and its historical center is designated by UNESCO as World Heritage Site. Kostroma charms tourists with its monasteries and masterpieces, created by talented craftsmen. Situated on the picturesque bank of the Volga River, Uglich is famous for its ancient monuments.
All the stages of the project are organized at a very high level in conformity with international standards. The Runs are open for everyone - professionals and amateurs, and even for kids from the age of 4 as every route is divided into different distances. So, the runners may choose the distance they prefer. To make participation more interesting, the Golden Ring Run developed a special score system, which counts all individual participants' results based on two core principles: sportive and sportive-quantitative. There are different championships, arranged by the project: Open Championships for individual runners, Open Championships for corporate teams, Open Championships for school runners, Open Championships for family runners.
We've spent a day with avid runner Robert Brown and his Russian Fiancé, Daria Yadernaya to get first-hand feedback on the Golden Ring Run. Robert is an American living in Moscow, who has decided to start running again after a 20-year break.
MD: When did you start running? Do you remember your first day?
R.Brown: It's actually a question with two answers. I started running when I was 11, when they started doing competitive competitions at my school. I ran for the next 6 years at a very competitive level. I did compete in road races but my focus was track and cross-country. That was another life though. I stopped running before college and did not run for 20 years. My first serious attempt at a run again was a little over a year ago. I remember the run clearly. It was one mile. Every inch of my body hurt and I couldn't breathe. It was pain, but it was a victory.
MD: What does running mean to you?
R.Brown: Running for me is about reclaiming my life and the thing I found so much joy in as a child. It's still very difficult, so I can't say it's as enjoyable, however, I certainly enjoy every new record for distance or for speed.
MD: What traits does running develop? And how do you use them in your everyday life?
R.Brown: Running develops perseverance and the ability to defeat doubt. Particularly in my position, every run is a challenge. I have bad knees and bad ankles. I have to push for every meter. This clearly carries into life as everything worth having taken work. And the fortitude to push through any obstacle is a tremendous asset.
MD: How did you know about Golden Ring Run project?
R.Brown: I discovered it asking Dasha about it.
MD: Are you happy with this project? And is there anything you'd like to change?
R.Brown: I think the project is a great way to see cities you might not get to. It does seem a little more coordination on travel from Moscow would be great. My thought would be set up an official car pool on the site allowing runners to pair up to reach some of the less convenient cities.
MD: What Russian cities have you visited with the Golden Ring Run project? Has the project changed anyhow your attitude to these cities?
R.Brown: It's hard to list all of the Golden Ring cities we have ran in as we run so many races. But I cannot say that my perception of the cities changed. I quite simply didn't know that the cities existed before the races. Now, I already knew that Russia was a beautiful country. What has moved me is the long history of even the smaller cities and their beautiful architecture and amazing people. They do Russia proud. Oh, and I love Russian Orthodox Churches. My favorite part of races all over Russia… more pictures of more churches.
MD: What advice would you give to those who are planning to start running?
R.Brown: Take your time. Be comfortable with it. Don't run too far or too fast. Be safe, the one thing you don't want is an injury. 7 billion people in the world stayed on the couch today and you are going running. So no matter what you win.
Since ancient times we've been struggling to get faster, higher and stronger. Sir William Shakespeare in his comedy "The Taming of the Shrew" instructed us: 'he that runs fastest gets the ring' which means "the best man wins". But is it only the victory that matters? Isn't healthier life the most precious victory we all could achieve? When you read
The Golden Ring Run'
s motto "Run that changes life!", you realize that, in fact, everyone who starts doing sports, who starts running to change his own life, is a real winner.
Suzanna Sargsyan