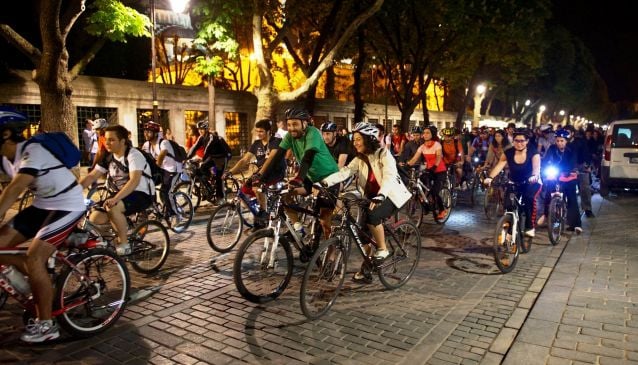 Moscow Velonotte
Adventure
Fancy some history and culture with a breath of fresh air?
How about some two-wheeling artistic insights? Well, strap on your crash helmet and pump up your tyres, as it's all at hand with the seventh installment of Velonotte – a bicycle tour with a twist. The annual night time cycle-tour visits both historical sites and little-known landmarks around Moscow, stopping along the way to allow guides to provide informative insights and commentary, all combined with elements of artistic performance.
Its creators state that the goal of the event is "to promote and valorize urbanistics, landscape and history of the cities. It is an annual non-profit event that presents Moscow and other cities both lesser-known and key monuments and landscapes to hundreds and thousands of people."
Last year's Moscow tour was accompanied by lectures and specially chosen music broadcast throughout the duration of the ride on Mayak radio station, available to any participant with an FM radio headset. English-speakers were catered for with a team from WoW Moscow providing English-language commentary during the ride, provided via specially prepared radio-equipped helmets issued to the tour's Russian-language-challenged riders.
"You shouldn't be cut out just because you don't speak Russian," Ksenia Zemskova, head of WoW Moscow's tourist projects, told The Wall Street Journal after last year's event. "Events like that, we want to make them more accessible."
Mayakovsky on Wheels
This year's tour, scheduled for July 20-21, is dedicated to 120th anniversary of Soviet poet Vladimir Mayakovsky's birth. The tour's Mayakovsky tribute program has been under development for almost a year and is taking place under the title of Yuzhnaya Velonoch, or Southern Velonotte, and is to take place around the streets of the city's southern neighbourhoods – Chertanovo, Biryulovo and Kotlovka.
Sergei Nikitin, a historian who teaches at Moscow's Higher School of Economics and the People's Friendship University, created the non-profit bicycle tour six years ago to combine a love of outdoor nocturnal activities with art and architecture. Some 100 cyclists took part in the first tour, which explored little-visited areas behind Kursky railway station. Since then the Velonotte tours have grown to include thousands of participants and have covered numerous Moscow neighbourhoods – both central and far-flung.
The Velonotte movement has not remained content with exploring Moscow alone, however, and has expanded since its original tour to cover the globe, with tours in Rome in 2010, both Russia's Northern Capital of St. Petersburg and New York in 2011, London in 2012 and Istanbul in May of this year.
Come Prepared
Anyone can participate free of charge – just bring your own bike, trike or other pedal-powered transport. Would-be participants should register on Velonotte's blog site. The exact time and meeting place is traditionally announced 24 hours prior to the tour's start. Organisers strongly recommend that participants carry a spare tyre, pump, bike lock and, of course, a helmet. Don't forget to pack some rations and for those with true staying power a picnic basket wouldn't go astray – last year the event marked the finish with a picnic at sunrise.