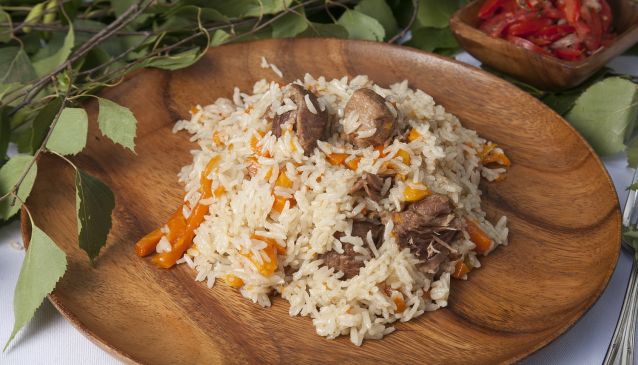 Moscow Restaurants welcome summer!
Food & Drink
the high spirits of the season without fail introducing changes in the interior and ambience
Out, out, outside! More open windows with cheery sounds of music coming out - that's a sign that the warmest season of the year in Moscow has come. Bright colours, lots of green, lots of air, water and sun, weekend parties and vacations – the motto of season is fun and joy! Summer brings more outings and more outdoor dining, more open doors for customers. Time to change the mood and food as the latter promises to be especially original with a touch of Russian summer. The cafes and restaurants follow the high spirits of the season without fail introducing changes in the interior and ambience – more outdoor terraces summer-tunes-ornated and more buoyant summer music and entertainment. And, of course, the menu to offer is to charge you with high summer energy.
"Art of cooking is, first of all, about feelings, passions and happy mood which can be conveyed to others", says Fabrizio Fatucci, one of the most popular and original Italian masters of culinary art. In search of the said basic ingredients, Fabrizio, born in Rome, travelled all over Italy absorbing flavours of Toscana, Sicily and Naples to incarnate them further in his works of cooking art. His credo is to create and improvise with heart. Fabrizio Fatucci teaches at one of the best world culinary schools – "Gambero Rosso" of Rome.
Having developed his skills in a number of the best houses – from Savoy Grand Hotel in London to Moscow's Forbes, in Saint Petersburg Mr Fatucci was lucky to materialize his dream - that is about a restaurant, "warm and full of life" where customers feel like at home.
Invited by Chelsea GastroPub, this summer maestro does his magic in Moscow, offering a special seasonal menu which is an artistic combination of molecular cooking and classic pub traditions: Carpaccio with octopus (420 Rub), Gaspaccio with crab meat (390 Rub), Duck Confit with quinoa (780 Rub), Scotch lamb (with mozzarella and celery sauce, 470 Rub), Veal cheeks stewed in dark beer (with mashed smoked potatoes and buckwheat popcorn, 890 Rub) – are only some of Fabrizio's masterpieces. And, of course, guests will be impressed with the brand desserts - Beeramisu (tiramisu prepared with light beer, 410 Rub), Limoncello mousse (390 Rub), and others.
For alfresco dining the restaurant of Northern cuisine, Expedition, attracts you with fabulous grilled meals cooked right on its summer terrace – moose (930 Rub) and venison (1040 Rub) burgers, Kamchatka (king) crab burgers (1250 Rub) and moose sausages (1020 Rub). Noteworthy is also 'The Bear's Feast', that is sockeye salmon with bracken grilled in rye bread. Cocktails based on local liqueurs are summerly refreshing.
Dandy Café couldn't afford to stand back from summer either. Chef Sergey Balantsev has prepared special summer meals – new salads, cold soups and hot dishes, made from fresh products. We strongly recommend you to try salad with seasonal tomatoes, farm cheese and Crimean onion, country okroshka with kefir (sour-milk drink) or kvass (mildly alcoholic drink made from fermented rye bread), and grilled Murmansk codfish served with carrot sauce. Don't miss Tambov cherry jelly with cream for dessert.
Summer is the season for very delicious mushrooms in Russia called 'lisichki' (girolles) lasting just a couple of months. Find time to enjoy the unique taste of girolles on toast in Scandinavia restaurant. Grilled bacon and fried mushrooms with chives are also highly recommended.
The seasonal menu of Coin Restaurant cannot avoid to offer a variety of vitamin and flavor rich salads such as Capri Salad with 5 varieties of tomatoes (a mix of black kumatos, orange and pink Crimean tomatoes, Yellow Cherry and Amoroso tomatoes with addition of mozzarella cheese, olive oil and balsamic vinegar) or energizing cherry salad with spinach, corn, mangold, cucumbers, parmesan cheese and honey & balsamic vinegar – hurry to taste as the cherry season is over soon. A very interesting choice is Salmorejo, cold Spanish tomato based soup-puree with smoked duck breast and diced hard-boiled eggs. Asian style beef tagliata is offered with Pak Choi.
A number of seasonal specialties from Chef Yuri Bashmakov of Oblomov restaurant is really intriguing. This summer the restaurant is cooking gammon of bacon with vegetables and green leaves or moose leg with potatoes in seaberry sauce. Apart from Russian dishes the Middle Asian cuisine is represented in Fergana pilaf with Achichuk salad and shurpa, lamb soup. The menu also boasts Samara crayfish cooked in milk with dill and spices and hand-made pelmeni with moose meat stewed with mushrooms.
Siberian restaurant Chemodan offers a dazzling 'Bird's Milk' cake with fresh summer berries on bird-cherry bread case, the unusual combination of which creates a unique flavor taking your fancies to the riverside and vast forests of Siberia.
Enjoy the summer spirit in the restaurants of Moscow. Catch it while you can.