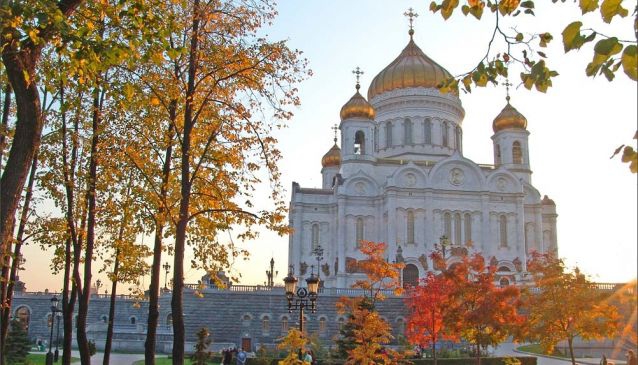 Autumn in Moscow 2014.
Seasonal Celebrations
Here are some highlights what is there to do in Moscow this autumn.
Summer may be over, but the Russian capital more than compensates with a spectacular display of autumn leaves and bounteous local produce in the markets and on seasonal menus in the restaurants. But besides admiring the golden glory in the city's parks and estates, and feasting on such fleeting gastronomical pleasures as wild mushrooms or tomatoes that actually have some flavour, what else is there to do in Moscow this autumn? Here are some highlights.
Exhibitions
The cultural season is in full swing with an abundance of must-see exhibitions in galleries and museums around town – too many to list here. Among them, prominent local contemporary art duo Vladimir Dubossarsky and Alexander Vinogradov have a major exhibition at the Museum of Moscow on Zubovsky Bulvar. Running through September 28, "Moscow: Vanishing Reality" displays large-scale canvases, graphic works and installations created especially for this exhibition space. Meanwhile, Artplay near Kursky Station is hosting the Artmosphere Street Art Biennale until September 20, with the participation of 45 artists from 15 countries as well as leading Russian street artists. Besides the large-scale exhibition at Artplay, street art can be expected to appear at some surprising locations around the city. Among other noteworthy exhibitions, the Kandinsky Prize exhibition will be at the former cinema Udarnik from September 18 to November 30, featuring 30 works by short-list finalists.
Taste of Moscow
The Taste of Moscow gastronomic festival takes place from September 12-14 at Luzhniki Stadium. Besides master classes and presentations by star cooks, it also offers the chance to try culinary creations by chefs from some of the city's top restaurants, plus musical entertainment, fashion shows, manicures, hairstyling, sports, games, and a kids' zone with an interactive programme. The festival is for all ages from 11 am to 6 pm, and for over-18s from 6 pm to 9:30 pm. Tickets cost 500 rubles for kids and 800 rubles for adults; there's also a range of differently priced family and group packages.
Moscow Marathon
Put on your sneakers and hit the road for a fun and scenic run on September 21. The Moscow Marathon is now open for registration, with participants able to choose between two distances – 10 kilometres and 42 kilometres – or team up with five colleagues for the corporate relay. Starting from Luzhniki Stadium, the shorter route goes along the Moscow River banks, around the Garden Ring and back along the river, while those who sign up for the longer run get to enjoy jogging past the Kremlin, Moskva-City and other sights. The less energetic can watch from special cheering zones or elsewhere along the routes.
Moscow International Balloon Festival
For some family-friendly fun, pop in to the Moscow International Balloon Festival at AFI Mall on September 27. From 2 pm to 6 pm, visitors can enjoy a colourful spectacle featuring inflated sculptures and various creative constructions – even costumes – made of the delicate air-filled spheres. Hands-on activities include classes in the art of "twisting", or making figures out of balloons. Entrance is free.
Khrushchyovka.Net
Take a trip back in time with the Khrushchyovka.Net theatrical art installation on September 27. The Meridian Culture and Art Centre is recreating 1960s Moscow in a suburban courtyard at 2 Ul. Shvernika, near Akademicheskaya metro station. Between 11 am and 9 pm, visitors are promised a retro-cinema, dance floor, the chance to meet actors from Soviet cult movies, twist dance classes, masterclasses in how to dress in period style or do 1960s-style makeup, plus much more. Free.
Night of Music
The popular Night at the Museum festival has a musical offspring – Night of Music. This year, it takes place on October 4, with free concerts from noon to late night at 250 locations around Moscow including the Conservatory, Philharmonia and House of Music as well as urban pedestrian zones, shopping malls, on transport and in nightclubs. Besides the usual repertoire of classical and jazz, this year organisers have decided to put an accent on contemporary music as well. The program has not yet been announced but some reports say the Bolshoi Symphonic Orchestra led by Boris Fedoseev will be on the classical agenda, while the contemporary music will include Naadya, Artemiev and others.