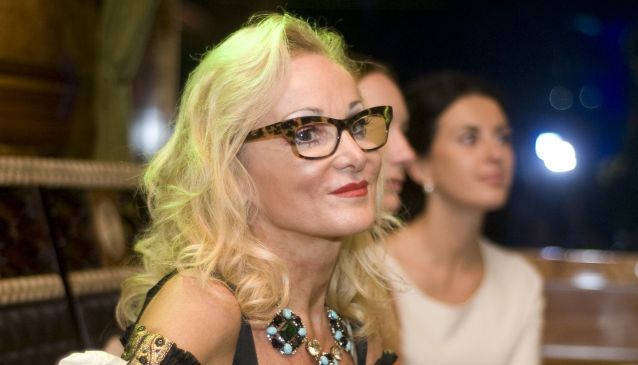 Interview with Paola Quadretti
Interviews
You have a lot of different colours here, in the atmosphere. I can see a beautiful golden grey...
Paola Quadretti is an Italian fashion designer, whose creations make use of the artisanal textiles, rare laces, opulent embroideries, and secret techniques of her native Florence. Her designs are for strong women, who want to make the most of their professional and personal lives. Aside from her native Italy, Paola built a loyal following in America with private trunk shows in New York, Washington, D.C., Boston, San Francisco, Palm Beach, and Newport. And now, it's time for her to conquer Russia!
My Guide Moscow managed to get a few minutes with Paola just before her first ever fashion show in Moscow in Lodka Restaurant to ask her a few questions about fashion, travelling and Moscow.
MD: Is this your first time in Russia?
PQ: I came last June for the first time. The owner of this store invited me as a friend and I'd never been here before because my main markets are Europe and the USA (mostly in New York where we have a beautiful salon). When I came in June I discovered a beautiful city and that the women here really fit my philosophy: they love feminine things, beautiful quality fabrics. I was very surprised and so this time I've come back to present my creations.
MD: So it was love at first sight! How does it feel coming back now on this gloomy autumn day?
PQ: I love Moscow in summer but also I love today! Fall is very beautiful, very charming here and I like the colours, the women here and I'm very excited to be here!
MD: What similarities and differences do you see between Russian women, Russian fashion and their European and American counterparts?
PQ: In the past it was like this: Americans travel a lot (I'm talking about the very wealthy ones because these are my clients) and so they have a more open vision of fashion but now I think that the Russian market is also interesting for me because Russian people also started to travel a lot, they can understand fashion more, they are more open-minded, they're looking for new brands because they love wearing unique clothes. I think there aren't so many differences but I do have to say that American women are slightly more masculine, a little bit less feminine than Russian women.
MD: You have high expectations for your Moscow venture?
PQ: Yes, of course! Definitely!
MD: Can you describe your new collection to us? What is it characterised by?
PQ: My winter collection was inspired by beautiful china vases, the beautiful prints. Also I added lace to make simple dresses more interesting. I added embroidery in the form of Swarovski crystals and I think I've made this collection charming but also fun and sexy. For the summer my inspiration was green, pink - these kinds of colors, natural colors. I added beautiful silver lace, the fabric was very light and fluid.
MD: It's sounds like a pleasure to wear! You said that you draw inspiration from china, from nature...so what other things inspire you?
PQ: I travel so much so I take inspiration from my trips. I'm also getting inspiration from this trip to Moscow.
MD: Really? What are you going to take back with you from this trip to Moscow?
PQ: You have a lot of different colours in the area, in the atmosphere. I have to say that here I can see different lights, beautiful golden grey - you'll see in the summer collection!
MD: Wow, can't wait! Since we're a travel website and you said you like to travel, can you please tell us which places you've enjoyed travelling to the most, some of your favourite destinations?
PQ: Moscow was a very unpredictable city for me to visit! I didn't expect there to be so many beautiful and wonderful places to visit - restaurants, museums, churches. And, of course, New York is one of my favourites. It's such an exciting place, I get lots of inspiration there. And of course, I love coming back to Florence, my native city because of the Renaissance feel and, well, because it's my home! This city is in my blood.
MD: Ok, and now for a little background information about you. When did you decide that fashion is the thing that you want to dedicate your life to?
PQ: I think that to do this work you need to be born with this talent and, of course desire, because it's not easy work. You have to put this work ahead of everything else in your life because otherwise you won't survive. When I was super young I already loved touching and smelling fabric. So then I studied arts in Florence and afterwards I opened my own little boutique in Florence and things started going well so I moved into a bigger store. Then, someone invited me to New York so I travelled there to expand my business and now I'm here! I'm very focused on this new adventure! I really believe in Russia.
MD: And what about our neighbors? Do you have any plans to expand to Ukraine or Kazakhstan?
PQ: Yes, why not. But I need to make this first step and after that I'd like to expand to your neighbours!
MD: So what are your plans for the rest of your stay in Moscow?
PQ: I have a lot of work to do related to this show and the opening of my Moscow boutique. I'll have a few hours free on my last day so of course I'd like to take a walk to the Red Square and also hopefully visit a museum. I love museums so I'll just hop into the first one I can find! There's too much to choose from really and for this reason I love this city! It's so full of art, extremely exciting so I'll be coming back very soon!
MD: Excellent, always happy to have you here! Any final fashion tips for our readers?
PQ: My advice is that everyone needs to discover her own personal look. Do exactly as your personality demands and wear what makes you happy and makes you feel unique!
MD: Thanks for your time and good luck with everything!
PQ: Thank you, take care.