Arkhangelskoye
The Arkhangelskoye estate was first mentioned in the 16th century as "Upolozye" because it belonged to Alexis Upolotskiy. Later it was bought by Feodor Sheremetyev, a famous Russian high ranking aristocrat.
The Arkhangelskoye estate was a summer residence for princess Golitsins, but the "golden age" of the manor came in early 19th century when Prince Nikolay Yusupov, patron of arts and the member of one of the richest nobilities in Russia, became the landowner. He invited the French architect Jacob Guerne to design the main palace in 1786-1790. The building had two wings, one of them was used as an art gallery and the other one as a library.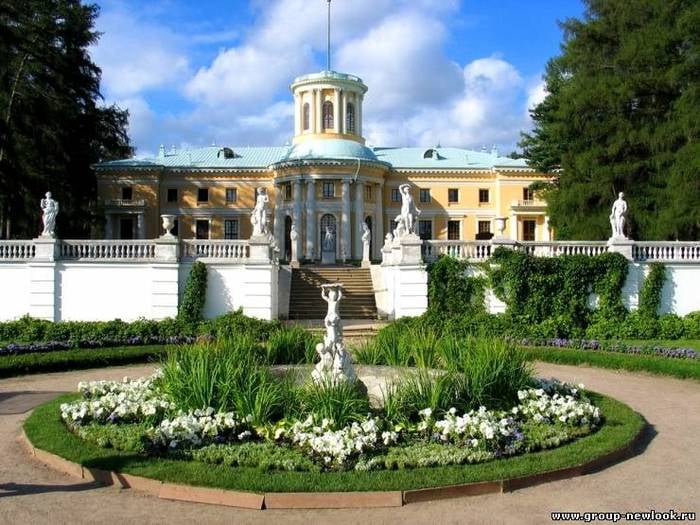 At that time about 500 guests would come to the estate for celebration with the owner as noble parties were a symbol of the utmost luxury, style and high-class. Open air theatres, river boat rides, carnivals, poetic evenings, outdoor games such as 'hide and seek', cricket, card games, live music and balls with fireworks and night illumination were used to entertain the guests and make everyone feel excited and amused. Besides, Yusupov would make a ball for his servants and give them some money.
The Arkhangel Michael church, which name was given to the estate, was built in mid-17th century on the place of the old wooden one, it's asymmetrical and looks like a wedding cake with fresh cream embellishments it was made built using just stones
In 1790-s an Italian designer Giacomo Trombaro created a magnificent park called "Russian Versailles". It has impressive terraces with marble sculptures of antique gods, heroes and philosophers. In the western part of the park there is a small palace Caprice and a Tea house, in the eastern part Pink Fountain pavilion will surely eye - catching place for every visitor.
The Theatre was built in 1817-1818 under the supervision of Pietro di Gottardo Gonzaga, a famous Italian architect. It was one of the most favourite amenities of Yusupov family with improvisation shows, comedies and ballet.
Archangelskoye was visited by writers A. Pushkin, N. Karamsin, A. Gertsen; artists v. Serov and A. Benois. It was also visited by emperors Alexander I, Nikolay I, Alexander II, Alexander III and Nikolay II.
Soviet time dramatically transformed the concept of the estate space. From 1943 to 1980 Archangelskoye was the training-centre of Moscow football and hockey clubs named CSKA. In 1985 the estate was closed for reconstruction. 
Nowadays Archangelskoye is divided into two parts. The first part has no entrance fee, It includes park, Gonsaga theatre and Apollo's grove. The second one has an admission fee and includes the Palace. Since 1998 every summer Arkhangelskoye is hosting an open air music festival 'Usadba Jazz' where there one can experience a fantastic combination of aristocratic tasteful space and ear teasing and tuneful jazz themes.