Flea Market in Izmailovo
      Izmailovo became an art market where paintings, crafts, souvenirs were sold on the Serebryanka river bank in the XVII century. Besides, there was so called grannies' stuff: pharmacy vessels, empty perfume bottles, nacre buttons and many other used things. So original, peculiar, old fashioned articles have had a long story at Izmailovo market which is now located not far from Partizanskaya metro station. The flea market works from Friday to Sunday, the main bargain day is Saturday because there come traders from different Russian regions. Everybody is in a hurry and doesn't much care about the 'shopping window' — their boot stuff may be scattered over the ground or remain in the car just alongside alleys. But there are certainly kiosks with more expensive goods. And shopping around these rows seems a real hunting game: Soviet badges, lacy collars, old magazines, books, photos, gramophone records, coins, chests with peasant towels embroidered with two head eagles, lions, roosters, icons decorated with gold and silver frames, items of furniture, beaded purses, lamps, fans and even fur skins.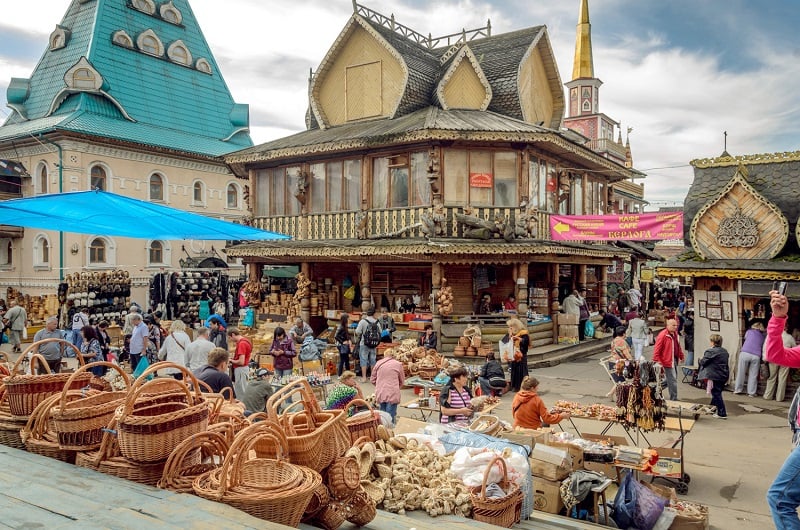 Although visitors can get easily excited seeing so much choice and have a good chance to find something unique and handmade, don't be misled by fraudsters especially if you decide to buy an icon which is sometimes just a varnished reproduction, not originally painted. The flea market is a perfect place to touch personally different epochs of Russian history, speak with various Russians, not only Moscovites, and look at wide range of curious, unusual, sophisticated items which illustrate everyday life of Russians from the XIX to the XXI century.

     Well, if you're looking for something made in Soviet times, there are lots of flags, symbolic badges, tableware, books, fur hats, pioneer ties and many others. For book lovers there can be editions dated back to the XIX century with old Russian orthography, for amateurs of exotics there is a carpet section, national wooden furniture, the northern peasant stuff.

    Don't hesitate to try this shopping tour, it's a little cheaper than in central streets and gives you the idea of great variety of Russian arts and crafts. It'll surely make your eye catch something 'fruity' and bring satisfaction in a sense that your shopping time is not wasted.