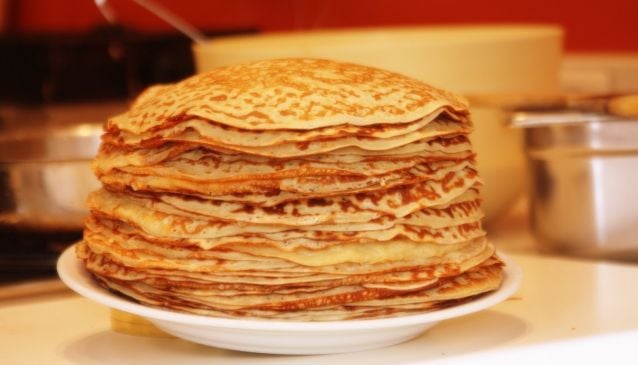 Maslenitsa in Moscow.
Seasonal Celebrations
the best locations around town to grab a pancake and catch the action
Yeah! Maslenitsa, or pancake week as it sometimes known in the West, arrives in Russia on February 16. Running through to February 22, pancake fans have reason to rejoice as the capital's public parks, gardens and squares gear up to provide buttery blini (pancakes) to all those eager for some of the tummy-warming fare.
Of course, it's not only all about the blini – there's plenty of carnival action to be had as well. For those looking for some festival fun, My Guide has found some of the best locations around town to grab a pancake and catch the action.
Gorky Park
Everyone's favourite park is holding its traditional Art-Maslenitsa festival on the Pushkin Embankment starting at 4 pm, February 21, running through to 9 pm on February 22.
"For Gorky Park, a modern idea for the ancient rites is our interpretation that we give to the revival of original Russian traditions," said Olga Zakharova, Gorky Park director, on the park's web site. "That is why our 'carnival' is an art object, our music – neo-folk – and our fair is more like a live performance. Come down to Pushkin Embankment, it will be loud, fun and delicious!"
A 40-metre-long, 3-metre-high squeeze box is to greet visitors by the front gate, while yet another harmonica at the embankment itself will house numerous installations representing the various Maslenitsa traditions.
The park promises the largest collection of pancake stands in the city. There will be plenty of live music starting from 4 pm both days and running till 9 pm on February 21 and till 8 pm on February 22. Bands on the musical bill include Atlantida project (February 21, 4 pm), Iva Nova (5 pm), Cut Out Club (6 pm), Mgzavrebi (7 pm), Inna Zhelannaya (February 22, 4 pm), Sun Tailor (5 pm), Optimystica orchestra (6 pm) and Rakija project (7 pm).
Besides musical entertainment, the Moscow IceMan strongman competition (1 pm-3 pm, February 21-22), will see sportsmen face off in various mind boggling feats of strength – lifting weights, dragging cars and more. Festival goers are invited to join in, including in the arm wrestling competition.
And naturally what Maslenitsa festival would be complete without an effigy to burn. This year's art effigy was created by Olga Lesnikova and titled Snegovaya Tucha (Snow Cloud). It has been built of timber and plywood and stands 9 meters in height and 5 meters in width.
"Snow cloud represents all the tension that has accumulated in people over the winter – cold and terrible – what you want to get rid of in the new year, to burn, in all senses of the word," said Lesnikova on the park's web site. The effigy is set to go up in flames at 8:30 pm on February 22.
Other events
Naturally, other Maslenitsa events can be expected to be found around town in the city's various squares and public spaces. The following are some of the highlights.
The Museum of Moscow will be holding its own Malesnitsa festivities on February 21-22. Plans call for master classes in making traditional rag dolls and clay toys. A "quest" is planned for children aged 5 to 14, with the kids creating their own carnival costumes, stilt walking, shooting at blini, tug of war, pillow fighting, and lots more.
The Kremlin at Izmailovo will be putting on a Malesnitsa show on Februrary 21-22. The Kremlin's Russkogo Podvorya Square will host a colourful show with theatrical performances by musical artists and kid's entertainers. Master classes and interactive games will also be available and both days will be culminated by the burning of a stuffed Malesnitsa effigy. Entry costs 200 rubles for adults.
Those looking for a little more fresh air can find it at Arkhangelskoye at its Maslentitsa event to be held on February 22. There will be folk and circus ensembles, animals and people in costume. Furthermore there will be sleigh and dog-sled riding. Naturally there will be plenty of hot beverages and pancakes.