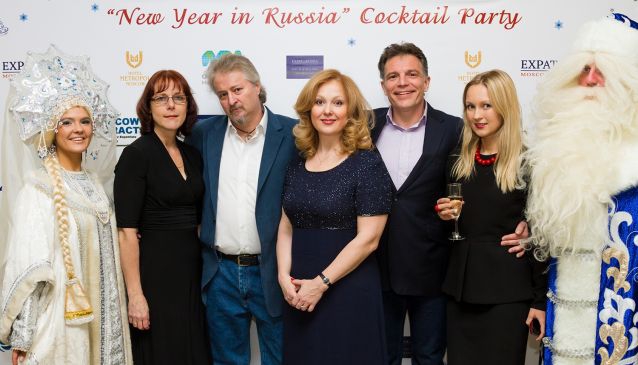 Festive Celebrations in Russia 
Arts & Culture
A time of joy, mesmerizing winter beauty and, most importantly, rich traditions.
Those of you who have spent enough time in Russia know that the most important holiday of the year is New Year. It brings families and friends together, it's a time of joy, mesmerizing winter beauty and, most importantly, rich traditions. Not all expats in Moscow have the opportunity to get a taste of real Russian New Year's celebrations so this year, EXPATinRUSSIA and My Guide Moscow decided to take the expats out of the freezing cold and give them a warm welcome of the holiday season by throwing a fantastic cocktail party in the historic Metropol Hotel.
"The holiday season is in full swing here in Moscow – everywhere you look there are trees all decorated and glamorous. The city's streets are lit up, ice rinks and winter markets can be found all around and people are running around frosty-cheeked making all the necessary preparations for New Year. It's a beautiful and incredible time for Russians so by organizing the "New Year in Russia" cocktail party we just wanted to bring the expat community together and give it a feel of what New Year really means for the locals," Natalia Kiriyak, the director of EXPATinRUSSIA, explained.
And what better place than the Metropol Hotel? Holding an event here is so much more than simply a chance to relax, unwind and have fun. It is an opportunity to travel back in time through Russian history to the beginning of the 20th Century. Before starting the party, guests got a couple of opportunities to be captured in the moment of the festive atmosphere. First, Dave Mercer from Dave's photos offered to take beautiful photographs against an elegant backdrop. Right before entering the party in Boyarsky Hall, Ded Moroz ("Father Frost") and his beautiful grand daughter Snegurochka welcomed the guests with a photo and a present from Russkiy Brilliant Vodka, one of the sponsors.
The hall where the party took place was tastefully decorated to reflect the holiday spirit. Drinks, food and entertainment were abundant. The champagne kept flowing all night and fine spirits were plentiful. A wide assortment of canapés and fruits were there for the guests' enjoyment. Traditional Russian songs and dances were performed by a highly professional ensemble clad in authentic outfits from the days of yore. Various classics, for example "Kalinka" and "Podmoskuvnie Vechera", reverberated throughout the evening and many guests joined in to demonstrate their dancing and singing skills.
It wouldn't be a real Russian New Year if there weren't any presents! Every guest received a raffle ticket at the start of the event and when it came time to pick the lucky numbers, it seemed like the raffle would last forever! So many amazing prizes were raffled off that to list all of them here would be an impossible task. A few examples included a stay at the agro-tourism complex Bogdarnya, beautiful New Year tree ornaments, a vouchers for dinner at Lucien restaurant and Dandy cafe, yoga classes from Fit and Healthy club, travel vouchers from Weekends Travel and, of course, the Expat Card (regular and VIP) - a lifestyle card that allows expats to benefit from a wide range of exclusive offers and discounts on various products and services from trusted partners of EXPATinRUSSIA.
When the evening finally drew to a close, every guest was smiling because new friends were made, fantastic experiences were shared and the holiday season was welcomed in, Russian style! Happy holidays, everyone, and we hope to welcome you at similar events in the coming year!