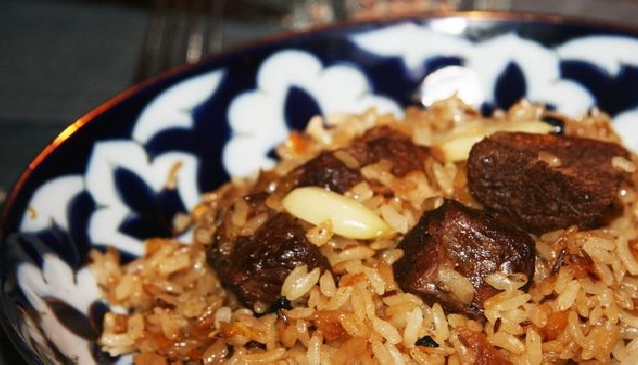 Cultured Cuisine in Moscow
Food & Drink
If Moscow restaurants are notable for one thing, it is their eclecticism
In another city, an Uzbek restaurant might seem a little out of place. After all, this is a cuisine yet to register on most culinary radars, and it faces tough competition in a market saturated by food from countries such as Italy and India. But if Moscow restaurants are notable for one thing, it is their eclecticism, and it therefore comes as little surprise to find the kaleidoscopic rooms of Uruk Café tucked within the city's garden ring.
For the vast majority of the twentieth century, Uzbekistan was herded into the dominions of the Russian Empire, but this did little to quell the traditions and heritage which make the country so unique. Indeed, it is precisely because of its traditions and heritage that Uzbekistan has always had such an allure to invaders, and much of this can be seen in the country's dishes and the customs that come with them.
Palov is, without a doubt, the fare most commonly found on Uzbek dinner tables, a moreish rice dish that contains chunks of meat, carrot and onion which combine to give a unique flavour when eaten in the traditional way with cupped hands. Uruk Café doesn't just put a Muscovite spin on the dish, however, it uses carrots that can only be found in a specific region in Uzbekistan, and makes sure guest's taste buds are delivered a true sensation with the inclusion of barberries.
The menu also features Non Mehmon, a distinctive bread that is made in a specially-built tandoori oven located in the open kitchen on the restaurant's first floor. In Uzbekistan itself, bread occupies a place of significance far greater than that found in many other countries, used frequently to mark important occasions and stages in life – as a blessing when a baby is born, for instance, or a gift when two rural communities meet one another.
There are plenty of other delectable traditional dishes to try here. Shurpa replaces fatty mutton, which is common throughout Uzbekistan, with tender lamb chops in a clear soup that has to be cooked for a number of hours to achieve the desired quality of flavour, while shahlo, a small salad that tosses slices of veal fillet together with onions, tomatoes, cucumbers and garlic, makes a perfect appetizer to have before a larger course.
It's not just through its cuisine that Uruk Café manages to transport its dining guests across the world map, however. The interior of this restaurant has been carefully crafted to emulate the rooms and environs that would typically be found in Uzbekistan, making extensive use of intricate tapestries and dazzlingly rich colours that give the impression of an exotic textiles bazaar. And the service is exceptional too, with dedicated waiters making sure your tea cup is never empty, and your queries about Uzbek customs never unanswered.
There are few better places to experience the multifariousness that has come to define Moscow culture than this. It is a place to come and relax, to feel at ease and to graze without concern for the passing of time, which, in a city where the best restaurants are often judged by their suitability for conducting business over food, is refreshing indeed. Uruk Café ticks all of the necessary boxes, but manages to elevate itself to another level by providing an immersive experience that draws upon the cultural melting pot that Russia has become, and this makes it much more than a place to come and eat.