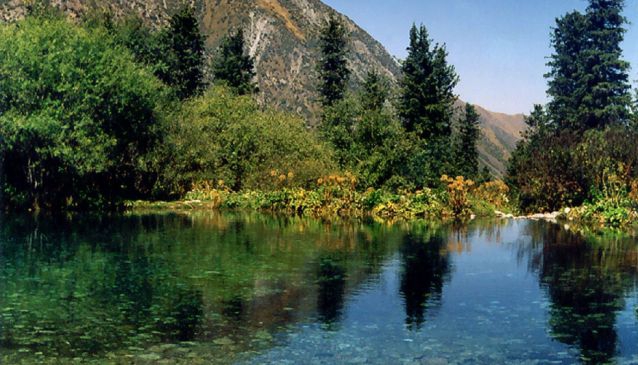 Beginning with Bishkek, Kick off in Kyrgyzstan!
Mini Break
the place is stable, welcoming and extremely good value for money
Kyrgyzstan is could easily be classed as Central Asia for beginners – for starters it's the only one of the five 'Stans which doesn't require foreigners to obtain a visa (and if you are planning to combine your trip with a side-trip to one of the neighbouring Central Asian countries, strap yourself in, roll your sleeves up and prepare for a journey into Soviet bureaucracy at its finest) and as it has little in the way of natural resources, has actually gone out of its way to attract tourists! Forget about the recent coups; the place is stable, welcoming and extremely good value for money.
What Kyrgyzstan lacks in pretty buildings, it more than makes up for in unspoilt scenery and while the capital Bishkek isn't exact a charmer at first glance it's a pleasant enough place to spend a day or two before heading out and exploring the rest of the country. In any case, Bishkek is the main entry point for the majority of visitors, but began its life in 1825 as Pishpek, and in 1926 was renamed Frunze after the Bolshevik Mikhail Frunze, who died the year before following a botched stomach operation which rumour has it that Stalin had 'ordered'. Ala-too Square and the Presidential Palace on Chui, the main drag, are good places to start, and the bustling Osh Bazar is walkable from the centre – just keep going until you see of hear it! This market is a great place to get a taste of local life and the mix of cultures, and fill your suitcase full of souvenirs, anything from woven slippers to dried fruits. Panfilov Park is nice for a stroll in the summer months but the city generally suffers from an overdose of concrete.
Bishkek has a plethora of restaurants offering all kinds of international cuisine but venues seem to open and close at lightning speed, and before ordering that plate of sushi you might want to think about how far you are away from the sea (and maybe not about how long it took for the fish to arrive)! You can't go wrong sticking to the traditional chaikhonas (literally' tea houses', but in practice double up as cafes); Kyrgyz food is essential a mix of central Asian; expect manty (greasy dumplings filled with mutton), shashlik (mutton sheesh kebabs), samsa (triangular pastries filled with – yes, you guessed it, mutton), bread and green salads with chopped tomatoes. Some are very basic, canteen-style with hideous toilets and may not even serve beer, whilst others are more up market (such as the 'Arzu' chain) & up-market enough for an evening out.
It's eating out in this part of the world that might be a killer for those watching their weight, but the answer to having stuffed your face lies outside of the city limits. Bishkek is ideally placed for easy day-trips into some of the nearby gorges, all of which are well worth a visit; preferably in summer but they're equally accessible in winter months, despite the snow. The closest and best known is Ala-Archa (which means multi-coloured juniper in Kyrgyz), but the Alamedin canyon, better known by its Russian name of 'Tyoplye Klyuchi' comes a close second; you don't have to be a hill-walking fanatic to appreciate the mountain views, and it's worth the drive up even if you only spend an hour or so walking around. Whichever one you choose, be sure to pay a visit on the way back to the memorial at Chong Tash, which commemorates the massacre in 1938, of 137 senior Kyrgyz intellectuals, politicians and professional by the NKVD (the KGB's predecessor) as part of Uncle Joe's crackdown of national movements in Central Asia. The grave site was only discovered in 1991 when Kyrgyzstan gained independence and a monument built only a few years ago, and despite the small museum's signage being in Russian & Kyrgyz only, it's worth a brief stop as one of rare reminders of the many tragedies that affected the people of the Soviet Union – most were never discovered and probably never will be. Less morbid, but a longer drive away and a little tricky to find is the Kegety gorge & waterfall, but you will have the place all to yourself!
Upon your return, if you still have some energy left then you'll be surprised at what Bishkek's nightlife throws up. Metro pub on Chui is the oldest Expat hangout and seems to have had its day, but is nonetheless a good meeting place to kick off; Bar 12 is – surprise, surprise on the 12th floor of a non-descript building at Razakova 32, but this is here people go to be seen so dress up, and if you're feeling adventurous (and lucky) then walk up to floor 13 to mingle amongst the Kyrgyz beauties on the little dance floor. Careful though; the local guys DON'T take too kindly to non-Kyrgyz hitting on 'their' women, so you may feel more comfortable in Kremlin, which is a more democratic, Russian-style nightclub. Similar in style, but remote – the clue is in the name, is a hike out to Promzona club, although you might think that you're back in provincial Russia as it seems to be an all-Russian affair, with the only Kyrgyz mopping the floors.
Getting there:
Aeroflot flies twice daily between Moscow Sheremetyevo & Bishkek's Manas airport; flying time is four hours and twenty minutes, and fares begin at around RUR13,000 return. You have a choice of a morning flight which arrives mid-afternoon, or taking the overnighter, getting you there in the early hours of the morning. There are trains from Moscow but these take three days and you'll need a Kazakh transit visa, and back a good book for the boredom of the endless steppe you'll be crossing.
Getting in:
No visa required for EU/North American or CIS citizens; just pack your passport!
Getting around:
Taxis into town from the airport cost 500 Som if pre-booked with an official taxi firm, but double to treble that amount if you haggle with the drivers milling around in the arrivals hall, even if you speak Russian – although hotels charge about the same as these guys, if it's your first trip you may want the peace of mind of a guy waiting for you with your name on a sign.
Staying there:
If you're on expenses, then stay in the Hyatt. If like the rest of us you live in the real world, there are numerous mid-range options – I've stayed in the Silk Road Lodge, the Tian Shen, Asia Mountains and Dostuk hotels, all of which are fairly centrally located, under $100 per night & throw in a reasonable breakfast in the price.
Spending there:
The local currency is the Kyrgyz Som, of which 1 US Dollar is conveniently approximately 50 Som. Exchange booths are everywhere, and they accept Russian Rubles too, so no need to buy USD or EUR before travelling. ATMs are a plenty too, especially in downtown Bishkek but don't expect to see them anywhere else in the country.
Speaking there:
Kyrgyz & Russian have equal standing in Kyrgyzstan, although in practice in Bishkek, Russian rules despite the exodus of the majority of Russians who've headed north in the past two decades. Due to the increase in tourism in recent years since visa requirements were scrapped, the use of English is on the increase, albeit it slowly.